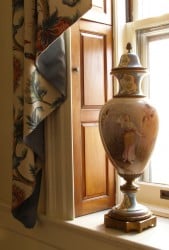 Cremation is gaining traction as the funeral planning method of choice, with over a third of Americans opting to be cremated over being buried. These numbers are only expected to continue rising, and estimates suggest that over half of all deaths will end in cremation by the year 2020.
Of course, just because cremation is becoming more popular doesn't mean everyone will have to dispose of the ashes in the same way. One of the best things about cremation is how creative you can get with the remains. Here are ten unique and not-so-unique ways to say goodbye to your loved one.
Display the Urn: Although some people find it macabre to keep a loved one's ashes displayed on the mantle, this is a traditional option for anyone who wants to stay near their dear and departed. A decorative urn can be placed in the home or in a columbarium for regular visitations.
Ash Scattering Ceremony: Most people opt to scatter the cremated remains of a loved one. Whether you go out back in the garden or stand on the bow of a boat and send the ashes off to sea, scattering the ashes is a great way to say goodbye (just make sure you have the right permits first) (more…)