Keyport Cemeteries
There is currently 1 cemetery listing for the city of Keyport, New Jersey. Looking for Keyport funeral homes?


Send flowers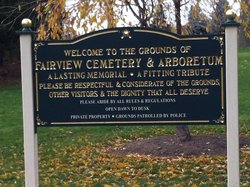 The final resting place for singer Whitney Houston.

1100 E Broad St, Westfield, NJ 07090 -

(908) 232-0781 |
Website

S
St Joseph's Church-Cemetery
376 Maple Pl

Send flowers
Keyport, NJ 07721


Keyport Obituaries
It was reported by Virginia Gazette on September 17th, 2011 that Jeanette Virginia Koyi (Jones) died in Williamsburg, Virginia. Ms. Koyi was 93 years old and was born in Keyport, NJ. Send flowers to share your condolences and honor Jeanette Virginia's life.
Keyport Cemetery News
Wharton, NJ, says farewell to hero soldier killed in Afghanistan
Kirspel was born in Dover on July 8, 1987, and lived in Hopatcong and Keyport. He was a 2006 graduate of Hopatcong ... and even after a line of friends had said their farewells, Donald Klein, New Jersey state captain of the Patriot Guard Riders, knelt ...
http://www.bing.com/news/apiclick.aspx?&ref=&aid=243F27F34D9C706EB9F2D0D4DD1828A02DC6A330&tid=6F88CE9B47F64DD29CE02D46FC81C9E9&url=http://www.dailyrecord.com/article/20101107/COMMUNITIES/311070004/1005/NEWS01/Funeral-service-in-Wharton-for-Hopatcong-hero-killed-in-Afghanistan&c=LDKkJ7gfEQ4qwNd_xS-udUO0hpNsBAxmI07I3kGKyns&mk=en-us
2010 Last year in Keyport! Don't Miss it!!!
2010 Last year in Keyport! Don't Miss it!!! *Open Rain or Shine* LOCATION: 18-20 MAIN STREET, KEYPORT, NJ ... A Weeping Willow Cemetery and Mikes Haunted ...
http://weepingwillowcemetery.com/
Green Grove Cemetery, Keyport, Monmouth County, NJ
Headstone Photographs and Transcription for Green Grove Cemetery, Keyport, Monmouth County, NJ Please click on the letter which corresponds to the first letter in the surname you ...
http://distantcousin.com/Cemetery/NJ/Monmouth/Greengrove/
Green Grove Cemetery, Keyport, Monmouth County, NJ - M
Transcription: MacDonald, Archibald ~~ 1855 - 1914 Photo. MacDonald, Mary E. ~~ 1855 - 1937 Photo. MacDonald, William F? ~~ 1867 - 1927 Photo
http://distantcousin.com/Cemetery/NJ/Monmouth/Greengrove/M.html
Cemetery - Wikipedia, the free encyclopedia
A cemetery is a place in which dead bodies and cremated remains are buried. The term cemetery (from Greek : sleeping place) implies that the land ...
http://en.wikipedia.org/wiki/Cemetery
Cemetery Records Online - Search Cemeteries
An archive of cemetery records from tens of thousands of cemeteries across the world. Search for cemetery records, browse cemeteries, and contribute your ...
http://www.interment.net/
Cemetery Lookup - Find A Grave - Millions of Cemetery Records and ...
Find A Grave currently contains information for over 300000 cemeteries in over 170 different countries. Find A Grave has at least a partial listing of ...
http://www.findagrave.com/cgi-bin/fg.cgi?page=cs
xkcd: Cemetery
[[A person is in a cemetery, near a gravestone. Other people stand around staring.]] Person: Frankly, you deserve this. You KNEW I wanted a sans-serif font, ...
http://xkcd.com/736/
Cemeteries - Keyport, NJ - NJ.com
Find Cemeteries local business listings in & near Keyport, New Jersey. Get Cemeteries business addresses, phone numbers, driving directions, maps, reviews and more
http://businessfinder.nj.com/NJ-Keyport/Cemeteries
Keyport, New Jersey Borough Information - ePodunk
Get all the local information you need on Keyport, New Jersey, NJ - community history, demographics, local search and more at ePodunk
http://www.epodunk.com/cgi-bin/genInfo.php?locIndex=18400
Keyport Cemeteries - Find BBB Accredited Cemeteries near ...
Find BBB Accredited Cemeteries near Keyport, NJ - your guide to trusted Keyport, NJ Cemeteries, recommended and BBB Accredited businesses.
http://www.bbb.org/new-jersey/accredited-business-directory/cemeteries/keyport-nj
Keyport, NJ - The Pearl of the Bayshore - Churches and Non ...
Keyport , NJ 07735. Elks Lodge. 249 Broadway. Keyport , NJ 07735 ... Green Grove Cemetery. 98 Green Grove Ave. Keyport , NJ 07735. Iglesia Hermanos Unidos. 36 ...
http://www.keyportonline.com/content/274/253/default.aspx