Succasunna Cemeteries
There is currently 1 cemetery listing for the city of Succasunna, New Jersey. Looking for Succasunna funeral homes?


Send flowers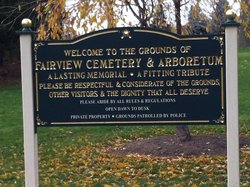 The final resting place for singer Whitney Houston.

1100 E Broad St, Westfield, NJ 07090 -

(908) 232-0781 |
Website

C
Cemetery of First Presbyterian
99 Main St

Send flowers
Succasunna, NJ 07876


Succasunna Obituaries
There are no obituaries in our database for this location.
Succasunna Cemetery News
Succasunna Cemeteries and funeral services in New Jersey
... New Jersey Cemeteries: Succasunna Succasunna Cemeteries There is currently 1 cemetery listing for the city of Succasunna, New Jersey.
http://www.imortuary.com/cemeteries/new-jersey/succasunna.php
Cemeteries in Succasunna, NJ
Locust Hill Cemetery Inc
http://www.yellowpages.com/succasunna-nj/cemeteries
Cemetery of First Presbyterian, Succasunna, NJ : Reviews and maps ...
Cemetery of First Presbyterian, Succasunna, NJ : Reviews and maps - Yahoo! Local, 973.584.4157. Get Ratings, Reviews, Photos and more on Yahoo! Local.
http://local.yahoo.com/info-10851793-cemetery-of-first-presbyterian-succasunna
Cemetery of the First Presbyterian Church of Succasunna in ...
Locate Cemetery of the First Presbyterian Church of Succasunna in Succasunna, New Jersey 07876 - 973-584-4157. Get phone numbers, driving directions, maps, review, comments and more
http://businessfinder.nj.com/438243/Cemetery-of-the-First-Presbyterian-Church-of-Succasunna-Succasunna-NJ
Cemetery - Wikipedia, the free encyclopedia
A cemetery is a place in which dead bodies and cremated remains are buried. The term cemetery (from Greek : sleeping place) implies that the land ...
http://en.wikipedia.org/wiki/Cemetery
Cemetery Records Online - Search Cemeteries
An archive of cemetery records from tens of thousands of cemeteries across the world. Search for cemetery records, browse cemeteries, and contribute your ...
http://www.interment.net/
Cemetery Lookup - Find A Grave - Millions of Cemetery Records and ...
Find A Grave currently contains information for over 300000 cemeteries in over 170 different countries. Find A Grave has at least a partial listing of ...
http://www.findagrave.com/cgi-bin/fg.cgi?page=cs
xkcd: Cemetery
[[A person is in a cemetery, near a gravestone. Other people stand around staring.]] Person: Frankly, you deserve this. You KNEW I wanted a sans-serif font, ...
http://xkcd.com/736/
Cemetery of First Presbyterian, Succasunna, NJ : Reviews and ...
Cemetery of First Presbyterian, Succasunna, NJ : Reviews and maps - Yahoo! Local, 973.584.4157. Get Ratings, Reviews, Photos and more on Yahoo! Local.
http://local.yahoo.com/info-10851793-cemetery-of-first-presbyterian-succasunna
cemeteries in Andover, NJ on Yahoo! Local
cemeteries in Andover, NJ on Yahoo! Local Get Ratings & Reviews on cemeteries with Photos, Maps, Driving Directions and more.
http://local.yahoo.com/results?csz=Andover, NJ&stx=cemeteries
Cemeteries - Wharton, NJ - NJ.com
Find Cemeteries local business listings in & near Wharton, New Jersey. Get Cemeteries business addresses, phone numbers, driving directions, maps, reviews and more
http://businessfinder.nj.com/NJ-Wharton/Cemeteries
Succasunna United Methodist Cemetery
Succasunna United Methodist Cemetery (Partial), Morris Co., New Jersey Contributed for use in the USGenWeb Archives as listed below Copyright. All Rights Reserved. ...
http://files.usgwarchives.net/nj/morris/cemeteries/succasunnaum.txt