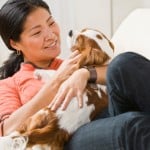 The loss of a beloved pet is never an easy thing. In our society, we are all expected to mourn and grieve over the death of a human relative or friend, and there are countless services available for the funeral planning process when this occurs. However, when it comes to our pets, there is a bit of a bias against formal burial arrangements. After all, it was just a dog or cat. Shouldn't you get over it or simply buy a new pet?
Those of us who have adopted a four-legged friend as part of the family know that things are never that simple. Some of these pets have been with us for decades, and many of them have faithfully seen us through the best and worst times of our lives. Saying goodbye to them isn't easy, and the lack of formal funeral options often makes this difficult task even harder.
Fortunately, the market has seen a need for pet memorial services, and most cities have organizations that can help you plan a funeral for a pet. If you go through animal control or city services, you can either have the body picked up or you can drop it off to be incinerated in a communal process. However, if you want a more formal ceremony, you can also opt for formal pet cremation or even burial.