Amarillo, TX Cemeteries and Burial Sites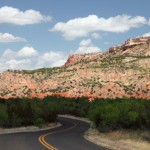 Amarillo funeral homes are part of a long tradition of honoring those who have been a part of the local community. Although it is a fairly large area, this Texas locale puts a lot of effort into respecting all the people who have helped build the city, from the early pioneers and builders to local heroes and politicians.
Everyday families have a place here, too, and the funeral services in Amarillo are among the best you'll find in the state. With a focus on honoring lives in the grand Texas tradition, every ceremony and burial wish is made a priority.
Historic Llano Cemetery
Llano Cemetery is the most famous cemetery in Amarillo, famed for its 140-acres of space and over 100 years of service. It was the first cemetery in the state to have been approved by the Texas Historical Commission as an official historical site. The oldest burial is an 1888 grave for a young child who passed away on her way through, and the land on which she can be found was bought and incorporated into a larger city cemetery in the ensuing years.
Today, Llano Cemetery is popular for its large number of pioneer burials and Congressional Medal of Honor recipients, as well as a few recognizable names in the sporting, political, and music worlds, including:

• Professional wrestlers Cal Farley (1895-1967), Steve Romero (1955-1985), and Ricky Romero (1931-2006)
• U.S. astronaut Rick Husband (1957-2003)
• U.S. congressman John Jones (1882-1976)
• Musician Terry Stafford (1941-1996)
There are also a large number of burials for the men and women who gave their lives for the various military conflicts throughout the twentieth century. From the very first Word War on, Amarillo city leaders have spent the time and money necessary to provide these individuals with the recognition they deserve, and there are separate markers (both in Amarillo cemeteries and at public memorials) that list the casualties for each war.
Amarillo Community and Development
Amarillo has long been a part of the story of Texas's development and statehood. Throughout the years, it has taken on the shape of a railroad community, a cattle marketing center, and an economic stronghold for all neighboring states and cities. Although it isn't the largest or most prominent city in the state, it is well known as a place of prosperity, history, and community. Many family neighborhoods feed into the downtown center, and a combination of historical buildings (and cemeteries) are matched by modern amenities that make the most out of the Texas lifestyle.
No matter what your burial or cremation needs, Amarillo funeral homes are prepared to stand by you as you make the difficult choices. Like the city itself, Amarillo funeral services aren't big, showy, or prominent—but they are here to provide the support you need, whether you're pre-planning a funeral for a family plot that has been around for decades, or if you are making last-minute arrangements for a loved one.
Please share your thoughts on this article
Related articles
Incoming search terms: