What Does a Funeral Director Do?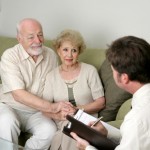 The funeral director is your guide to the funeral planning process, from the first decisions you make to the very last. These professionals generally have one to two years of formal education (in a college setting), and have successfully completed a one-year apprenticeship program with a licensed funeral home. Further licensure is offered by each individual state, and many funeral directors are part of the National Funeral Directors Association, which oversees the profession.
Even with all these credentials in place, it's important to find a funeral director you personally connect with. Because you are most likely going to be dependent on your funeral director for emotional support as you go through the difficult process of funeral planning, having a comfortable, working relationship will make everything a little bit easier.
As you begin, your funeral director (and his or her team) will:

• Make arrangements to move the deceased to and from facilities
• Help you decide which burial arrangements to use
• Work with you to choose the location, date, and time of the memorial service
• Prepare the remains according to your chosen burial method
• Write and place obituary notices as well as other printed materials
• Organize death certificates and state/federal paperwork and information
• Discuss funeral costs and payment options in a non-threatening manner
• Arrange for pallbearers and a member of the clergy to oversee the service
• Work with the cemetery to schedule the opening and closing of the grave
• Prepare the visitation room and/or area for the service, including flowers or audio/visual options
Funeral directors are also responsible for any funeral planning you might wish to do. If you or a loved one would like to purchase funeral insurance, purchase a cemetery plot, or even fund the entire funeral ceremony in advance, a funeral director can help you set up a payment plan or lock in rates to ensure that your loved ones will be taken care of after your passing. In most cases, the funeral director will do this in conjunction with the funeral home where he or she works, so that your benefits will roll over even if the funeral director isn't there any more.
Overall, funeral directors have one of the hardest and most rewarding jobs there is. Helping families work through their grief can be a very difficult task, but in addition to helping you make the hard choices, these professionals are also a source of support and moral or religious comfort. It doesn't
matter whether you're funeral planning in advance or if you're forced into it by unforeseen circumstances – your funeral director is your partner, and it's important to remember just how much they do to help the process along.
Please share your thoughts on this article
Related articles
Incoming search terms: