How to Choose a Funeral Director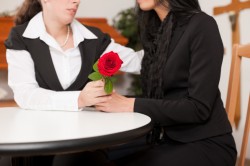 When you're choosing a funeral home to help you with funeral planning, you're not just considering which facility is best—you're also interviewing funeral directors. Because you'll be relying on one individual for so much of your support and decision-making, it's important that you feel a connection with your funeral director built on trust and understanding. Although you probably won't have time to call and get to know every funeral director in the event of a sudden death, you can take a few minutes to chat with them to get a feeling for who you'd like to work with.
What Does a Funeral Director Do?
Funeral directors are the "coordinators" of a funeral. Depending on the size and policy of the funeral home you choose, they can either be the person who oversees the details of the funeral and body preparation, or they can be the person who physically handles the remains. In both cases, the funeral director is who you'll go to for your questions and concerns, and who will contact ancillary service providers on your behalf.
Funeral directors know all the local laws and regulations, and typically have contacts with any number of area providers (including cemeteries, churches, newspapers, memorial service venues, transportation services, hotels, and even grief counselors). In this way, you can direct all your questions and needs their way rather than doing too much searching on your own.
Finding the Right Fit

Ideally, when you do advance funeral planning, you get to know a funeral home and its staff well ahead of the time of need. This allows you take some time to develop a personal relationship with the funeral director and feel confident in your choice.
As this is not always an option, here is a quick and easy checklist for finding the right funeral director fit.
Does he or she profess a specific religious denomination, and does it match your own?
Do you feel welcome to ask questions or voice concerns?
Is there a high level of salesmanship, or is it a more supportive environment than that?
What kinds of hours is the funeral director available?
Do you feel emotionally connected to the funeral director?
What happens if the funeral director is out sick the day of the funeral?
How many years of experience does the funeral director have?
How long has the funeral director been working in your city or area?
Is he or she licensed by the state to provide funeral services?
What happens if you change your mind about services?
Do you feel encouraged to talk about the deceased and feel supported by the environment?
While not everything can be chalked up to your gut feeling (especially when it comes to licensing and credentials), this is one time when it's important to feel comfortable with your choice. You only have one chance to bury a loved one, and any regrets you feel will be carried with you for the rest of your life.
Take your time to ask questions, get a feeling for the funeral director, and ensure that everything being offered is done aboveboard. In the end, this confidence will count for quite a bit in your overall peace of mind.
Please share your thoughts on this article
Related articles