Non-Denominational Sympathy Card Messages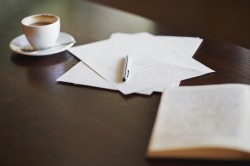 Sending a sympathy card to a family who has just experienced a loss is a kind and low-cost way to show your support. Because too many funeral flowers can be overwhelming—and because many people would rather not receive financial support or gift baskets—sympathy cards allow you to share your regrets without overwhelming the family.
Because of the nature of death and dying, most sympathy cards and the messages for sympathy cards are religious in nature. However, not every family appreciates spiritual sentiments at this time, or you yourself may be agnostic/atheist and don't wish to send a religious card.
If this is the case, it's best to stick to non-denominational sympathy card greetings. Usually, you can accomplish this by avoiding any references to the afterlife, God's role in death and dying, or the deceased moving on to a better place.

Some of your more specific options include:
"Thinking of you and your family during this difficult time."
"Our lives were deeply touched by _______, and we will carry the memories of him/her with us for as long as we live."
"_________ will be sorely missed. He/she was a bright spot in our lives, and we will always remember his/her contributions to this world."
"Please let us know if there's anything we can do to support you in your time of need."
"Words can't express our heartache for you and your family, but know that we are thinking of you always."
"May the sorrow you feel be lightened by the treasured memories we all share."
"________'s memory will always be carried in our hearts and treasured in our home."
"Our deepest condolences for your loss."
"With love and deepest regrets."
"We offer you thoughts of peace, courage, and strength to make it through the days ahead."
"A loss like yours is never easy to bear."
"I remember when ________ (insert a favorite memory). Memories like these will help carry us through the difficult times ahead."
"So many lives were touched by _________, including our own."
Always take the time to insert a personal greeting and/or memory in a sympathy card, as well. Although these kinds of blanket regrets work well to convey your message of condolence, it's the personalized touches that tend to bring the most comfort to the family—regardless of religious, spirituality, or whatever beliefs carry you past your grief to find peace.
Please share your thoughts on this article
Related articles