Should You Buy Artificial Funeral Flowers?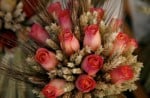 Funeral flowers (also known as sympathy flowers) are a common way to show your love and support for the recently deceased. Whether you order a large casket spray for display during a memorial service or a handful of rose petals to shower down on the casket as it is lowered into the ground, flowers are one of the most popular traditions in the funeral industry.
When most of us talk about funeral flowers, however, we mean fresh flowers—an arrangement ordered through a florist in the days preceding the funeral, and for use during the memorial service. Like all fresh flower arrangements, these only last a few days before beginning to wilt. And while there are some great flower preservation options if you want to keep a bouquet or arrangement on display, you also have additional options to look beyond fresh flowers to artificial arrangements.
Why Choose Artificial?
When done correctly, artificial funeral flowers can look just as great as the real thing—with the added bonus of longevity. This can be especially beneficial if the cemetery you've chosen allows artificial flower displays and you'd like to take the time to decorate the grave of the deceased.
If you live in a cold climate or if it's winter, fresh flowers will only last for a few hours outdoors. Artificial flowers can be on display for longer, and you might be able to put them up at the cemetery following the burial.
You also have the benefit of cycling through various floral displays. For many people, going to a cemetery to decorate a grave is the only way to make it through the tough holiday seasons. Small gestures, like placing a poinsettia during Christmas or putting out a Memorial Day wreath can mean a lot. When you use high-quality artificial flowers, these can be placed out every year and reused.

Cemetery Regulations
Every cemetery is run a little bit differently, and many of them have regulations in place regarding the display of flowers (and may even prohibit the use of fake flowers at all). Before you choose a cemetery or purchase arrangements for display, make sure you know the fine print. Common restrictions include:
No more than two decorations per grave
Planted flowers and shrubs are prohibited or restricted
In-ground vases require approval
Holiday decorations must be removed within a certain time frame
Faded or unsightly displays will be removed
In order to get around many of these restrictions, artificial flowers now come with a variety of optional features. UV coated flowers are designed to be more flexible and durable in every kind of weather—with additional protection against fading. Flowers crafted from poly silk are also popular, as they tend to fare better than traditional silk flowers.
Creating a Lasting Memory
Before you purchase any type of sympathy flowers, be sure and ask what the family wishes. In some religions (particularly the Jewish faith), it is asked that you not send flowers of any type. Green burials often ask that you make a donation in lieu of eco-damaging fresh flowers. Other people might simply wish to avoid artificial arrangements of all kinds.
If you don't wish to disturb the family at this time, you can also call the funeral home for more information. They almost always know what the specific wishes are as well as possible restrictions at the intended place of burial.
Please share your thoughts on this article
Related articles
Incoming search terms: