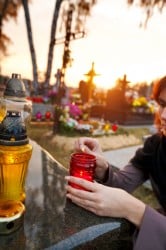 The average American puts quite a bit of time and expense into funeral planning, usually to the tune of about one week and $10,000. And for the most part, this is considered well-spent. After all, we constantly hear about how this is the last chance to say farewell and a reason to gather the entire family together at one time—even if it is with a somber note to the event.
Of course, that doesn't mean the commemoration of a loved one's life has to stop the day after the funeral takes place. A growing trend in the death care community is to follow up on a funeral one, two, three, or even ten years later with an anniversary memorial service.
What is an Anniversary Memorial Service?