5 Questions to Ask Before You Start Funeral Planning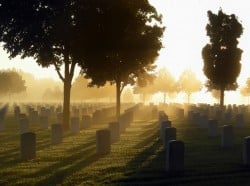 Once you've made the decision to begin funeral planning, it's easy to become overwhelmed by all the information and options out there. Choosing cremation vs burial, picking between dozens of local funeral homes, considering funeral insurance vs a pre-plan funeral package…these are just a few of the options that pop up in the beginning of your search.
Because few purchases will ever be more personal than the ones you make regarding your own death, it's important to take a deep breath and relax as you move forward. Although time is one of the few things none of us has an unlimited amount of, you should never plan a funeral in haste. It's too easy to overpay or buy services you don't need if you feel pressured to make immediate decisions.
Before you sit down with a financial advisor, funeral director, or other professional hoping to get you to sign on for their product, here are five good questions to ask yourself about what you want—and how much you want to pay for it.
What is Your Ideal Budget? Before you research funeral prices or look up how much the average funeral costs, decide out how much you want to spend. You can plan a funeral on almost any budget—the question is how hard you're willing to work and what you're willing to give up to do it. It's okay to adjust expectations once you've done a little research, but don't let anyone force you into spending substantially more than you'd like.
How do You Feel about Burial vs Cremation? Some people have strong cultural and/or religious inducements to choose one or the other. Some people don't care as long as their family is happy. Whatever your personal beliefs, now is a good time to pick an option. (Other ideas, like resomation or donating your body to science, can also be considered.)
Where Would You Like to be Interred? Is there a family plot in the graveyard where you'll be buried? Would you prefer to have your ashes scattered out at sea? Do you not care as long as it's in your hometown? Even if you don't purchase the actual cemetery plot, you should at least specify your final destination.
What Legacy Will You Leave Behind? Few people are able to leave behind millions of dollars in savings, but that doesn't mean your life and personal effects have no value. It doesn't matter whether you want to pass on the family heirlooms to your children or ensure that your remaining retirement funds go to your favorite charity—you should know what you'd like to see happen to your legacy. Putting this kind of thing in writing early on can save quite a bit of trouble for your family later.
How Concrete Do You Want Your Plans? This is the most important of all five questions. These days, it's possible to pre-plan (and pay for) a funeral from start to finish. It's also possible to do little more than download a funeral planning app and fill out your personal requests. Both of these ends of the spectrum are fine, as are all the other options that fall somewhere in the middle.
Planning a funeral is a large undertaking, and it's best not to do it alone. Once you have a basic understanding of how you'd like to proceed, sit down with a family member, financial advisor, or funeral director to take your next steps.
Please share your thoughts on this article
Related articles