Inexpensive Ways to Dress a Child for a Funeral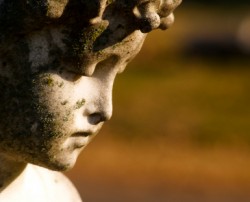 Children aren't always invited to attend funerals, but it is becoming more common to introduce formal death to kids at a young age. Because they are often bombarded by media images and video games that include death, going to a funeral for a relative can be a more realistic and practical way for them to understand what death means.
While many parents are happy to include children at funerals, there remains the lingering question of how to dress them…and how to dress them on a budget. It isn't practical to purchase a somber black formal outfit they might only wear the one time, but neither is it appropriate to dress them in a glittery holiday dress or jeans and a t-shirt. To dress a child for a funeral for less, we recommend a few key steps.
Go Dark, Not Black: There are no rules that say a child (or anyone) has to wear black to a funeral. Dark colors like blue, grey, green, and even more muted reds can be appropriate. You can even include white as long as there are some darker colors to compliment it.
Shop for Less: Because this is an outfit your child may only wear one time, consider shopping at thrift stores, discount stores, or clothing swaps. Look for functionality over visual appeal, and don't worry as much about fit. This is a one-time use.
Buy Separates: Instead of purchasing an entire outfit, opt for one piece. A shirt, a pair of pants, a serviceable skirt…these can be bought for fairly little and paired with something your child already owns.
Borrow from Others: Hand-me-downs are a common part of most childhood wardrobes, but few people consider borrowing clothes for a temporary fix. Now is a good time to consider it. If you know of someone who has been through a similar situation—or who has a large kid's closet the right size—consider approaching them for a favor.
Dress Up in a General Sense: Because children usually aren't the focus of a funeral, you may be able to get away with simply dressing them up. Holiday outfits, wedding attire, and other formal kids wear could be an easy solution. Just be sure to stay away from glitter, spangles, vibrant colors, or anything else that will cause them to stand out (this includes shoes, as well).
At the end of the day, the most important thing your child can bring to the funeral is respect and good behavior. Most people will be more than understanding of budget (and time) constraints when it comes to dressing a child for a funeral.
Please share your thoughts on this article
Related articles