Consumers Guide to Buying a Grave Plot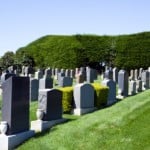 One of the most important decisions you will make during funeral planning is which grave plot to choose as the final resting place for either you or a loved one. Cemetery plots are actually one of the top funeral planning decisions made prior to death, since many people feel very strongly about a particular location or about being near those they love. Family plots, for example, are often part of a long tradition in which you make burial arrangements in accordance with land that has already been purchased. And because the cost of "real estate" in the funeral industry tends to go steadily up, making your gravesite purchase years in advance can save tens of thousands of dollars down the road.
How Much do Grave Plots Cost?
Like real estate in the residential and commercial aspect, where your grave plot is located will play a big role in how much it costs. Most burial sites start at around $1,000 for single plots, and can go up to tens of thousands of dollars from there. Historic cemeteries, sites on hills or exclusive areas, and large plots big enough to fit families for generations may cost even more, especially if you're in a big city or in a location where green land is hard to come by.
In some locations there may be other options, including placing caskets on top of one another (separated by several inches or feet of earth) or even vertical burials to save on space. These burial options may save you money and provide a more eco-friendly approach by conserving land.
Buying "Used"
One buzzword in the funeral planning game is "pre-owned burial plot," which is a low-cost offer that's not nearly as macabre as it sounds. The plot isn't used, as in someone has been buried there before; it's used as in someone bought it as part of a funeral planning package and then made alternate arrangements or moved to another location.

Pre-owned burial plots can actually be a great way to save money and still get a great location. In many cases, the previous owners will sell the plot to you directly, without going through the cemetery or funeral home, and they may be hard-pressed to get the sale over with so they can move on. They might also have purchased the plot years ago (when costs were much lower), and will pass much of that savings on to you.
Pre-Planning Your Burial
Because it is almost guaranteed that grave plots will get more expensive over time, doing a little funeral planning in advance is a great idea. You'll want to find a cemetery you really like, and ensure that they meet your requirements in terms of burial vaults, headstones, visiting hours, flower rules, and even regular maintenance.
It's also a good idea to have a lawyer look over the pre-need contract before you sign. You should always ensure that there are ways for you to sell the plot, should you no longer need it, and to make sure there are consumer protection rights if the cemetery is sold, bankrupted, or otherwise out of commission.
No matter what you choose, your burial site is only one piece of the larger puzzle that is funeral planning. There are so many different burial arrangement types that you may also want to consider cremation or burial alternatives before you make your final decision.
Please share your thoughts on this article
Related articles