Creative and DIY Memorials to Make from the Deceased Belongings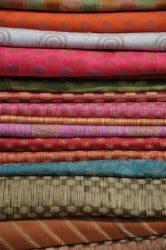 Throwing away personal effects can be a difficult process for those in mourning over a loved one. Whether you're clearing a room or an entire house, discarding cherished memories or donating items to charity can feel like saying goodbye all over again.
If you aren't quite ready to get rid of the entire closet full of clothes, or if you'd rather not sell off furniture that's been in your family for years, here are a few creative ways to memorialize your loved one.
Make a Blanket or Quilt: Old clothes can make an excellent source of fabric for a commemorative quilt. Choose your favorite (and most memorable) items of clothing, and cut squares of fabric to be made into a blanket. If you sew, you can do it yourself, or there are specialty providers who can make it for you. This item can be cherished forever without taking up too much space.
Make Sweater Pillows: In addition to a clothes quilt, you might be able to reuse sweaters to make pillows or cut down formal gowns to make clothes for a child. Look to Pinterest or other craft sites to get more ideas on items you can make from old clothes, blankets, and other items.
Sell off Pieces in a Memorial Fundraiser: Getting rid of furniture and other large pieces is difficult, but unless you have an excess of storage space, these items will eventually have to go. One way to make the transition easier is to plan the sale as a kind of fundraiser. Use the money you earn to make a donation in the deceased's name or to purchase a memorial bench (or other item). Because you have a concrete plan for the funds, it might be easier to let the furniture go.
Take Photos and Make a Scrapbook: One of the reasons it can be so hard to let things go is because of the memories associated with each book, each pillow, and each chair. If space is limited, try taking photos of the items to be stored in two-dimensional form. You miss out on the smell and texture, but you can create a scrapbook or keep the pictures online to be shared with friends.
Melt Down or Reuse Jewelry: Jewelry tends to be easier to store than other items because it is smaller and more portable—but that doesn't mean you have room to keep the jewelry indefinitely. To consolidate, you can put favorite rings on a chain to make a necklace or have precious metals melted down and remade into a piece you'll actually wear.
Open a Community Library: A growing trend in cozy communities is to erect a small public "library" where passersby are encouraged to take and/or share a book. If the deceased had a large personal library, consider sharing the bounty with your neighbors by keeping a rotating stock out front.
Everyone grieves at a different rate, and only you can determine when the time is right to start parting with physical belongings. Crafts like these can not only help you hold on to items you're not ready to lose, but they can also keep you busy and stay in touch with the memories that you cherish.
Please share your thoughts on this article
Related articles