Flower Etiquette for Funerals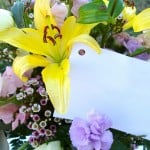 While much of funeral planning is left to the close family and loved ones of the deceased, some signs of respect can be made by other people who wish to offer their condolences and remembrances. Having flowers sent to the funeral is a beautiful way to express how much you care. Knowing when to send the flowers and what exactly to send, however, requires some knowledge of funeral flower etiquette.
While any arrangement will be beautiful, if you are close to the deceased you can send the funeral flowers that he or she loved the best. Perhaps they had a fondness for roses or for daisies. If this is the case, funeral planning with their favorite flower can be a wonderful way to remember them. The spouse may also have certain flowers they prefer, and sending these can be a way to offer comfort during this difficult time.
Be sure not to send anything too ostentatious, however. The services for final arrangements are meant to respect the life of the deceased, not to show off. Try to make sure that the flowers you send are in line with other floral deliveries arriving to honor the deceased.

Timing is everything, and it is no different with funeral planning. It is important to have the floral arrangements delivered before visiting hours start. Many funeral homes will not even accept deliveries after the services have started because they do not wish to disturb the mourners. By the same token, if you are having flowers delivered to the cemetery, again, be sure they arrive well before the services begin.
While most people find that flowers sent as part of the funeral service are very respectful, there are some religions that frown upon this tradition. Some Jewish groups, many Muslims, as well as some Christian denominations do not traditionally welcome flowers as part of funeral planning, or would ask that the flowers not be arranged in the shape of a holy symbol. Because of this, be sure to inquire about the burial arrangements to be sure that the floral delivery will indeed be welcome.
Some types of sympathy flower arrangements should only be ordered by the people doing the funeral planning. Many times there will be an arrangement on the coffin, called a casket piece. This will be chosen by the family, and will often include colors or flowers that the deceased loved in life. It would be poor funeral etiquette to send a casket piece to be used as part of the final arrangements.
Funeral planning and burial arrangements are sad facts of life, but offering flowers in memory of the deceased can be a very welcome gesture. By thinking through the arrangement and choice of blooms, the flowers can offer even greater comfort to the family. Be sure to inquire if there are religious objections to flowers, however, and to have any flowers delivered on time. After all, funeral planning flower etiquette is meant to comfort the family and to honor the deceased, not distress the family.
Please share your thoughts on this article
Related articles