Simple Preparations For The Day Of The Funeral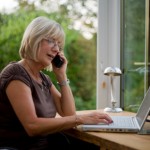 Planning a funeral can be such a grueling and stressful task, especially during such a sad and trying time. Between arranging which funeral home the service should take place at, ordering flowers for the service and coordinating the arrival of friends and family members, you may dread the additional stress that the day of the funeral may bring. However, if you're planning a funeral for a dearly departed loved one, there are tips and techniques that you can use to make the day run more smoothly – so you can spend more time with friends and loved ones who are there to support you.
Take Care Of Little Details. This is where a funeral home can come in handy, since you'll need assistance in making sure that all little details are seen to with exacting care and attention. For example, will you use family members as pallbearers, or will the home provide their own? Have you already chosen music to perform at the service? What about any eulogies that may be read during the service? Go over the details one last time with the funeral director to make sure that nothing is skipped over. Staff members at the funeral home will usually take you aside before the beginning of the service to make sure that everything will go according to plan, so wait for them to take the initiative.
Be Sure That The Reception Is Prepared Ahead Of Time. You don't want to arrive from the cemetery to find that any after-service gathering needs to be prepared for. Arrange for everything to be done while close family members and friends are at the cemetery. If you're having the gathering in a church or synagogue, request that members set out food and drink so that it's prepared for your arrival. If you have an after-service gathering at the funeral home, this will all be done for you.
This is also a good time to ask for help from friends and distant relatives of the deceased, since they'll be in a better state of mind to prepare for a reception. Don't be afraid to ask for help if you need it.
Take Care Of Smaller Children. If you have young children, or know that there will be plenty of young children at the funeral, request that a couple of babysitters play with the children during any part of the ceremony that might be unfit for them. You can arrange to have the children dropped off at the after-service gathering or taken to another part of the funeral home. If the funeral is for a friend or distant relative, consider leaving your young children behind with your spouse or trusted babysitter to avoid making any scenes.

Verify Any Deliveries. If you requested flowers at the funeral or memorial service, verify with the funeral home or florist when they'll be arriving and if any assistance is required. Usually the funeral home will take care of all of this, so it's very unlikely that your presence will be required. However, you might want to do this for your own peace of mind.
Bring Significant Items. If the funeral service is an open-casket, you might want to bring a special token or item that's significant to both you and the deceased. This way, your loved one will be buried with a small part of you.
Keep The Weather In Mind. In the midst of your grief, it's easy to forget that Mother Nature can play a significant part of any funeral. Bring an umbrella or sunglasses in case of rain or sun, and a warm jacket should the day become cold.
Don't Bring These Things… It may seem contrary to your instincts, but if you're attending the funeral as a friend or distant relative, send sympathy cards and flowers to the family's home instead of bringing it to the funeral. Ask if it's appropriate before sending floral arrangements to a funeral home, as many families opt for donations to a charity in lieu of flowers or other gifts.
Preparing for a funeral doesn't have to be a stressful experience, especially since your attention should be on friends and close relatives who need your comfort and support. Enlist the aid of the funeral home where the service is being held to make sure the day runs smoothly, as well as friends and relatives; they'll provide much-needed physical and emotional support throughout the day.
Please share your thoughts on this article
Related articles