Why Send Sympathy Flowers?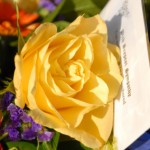 These days, sending flowers and funerals seem to go hand-in-hand. Gorgeous floral arrangements, sympathy funeral flowers, and ornate sprays transform the somber space of the funeral home to a more personalized commemoration of those we have loved and lost. Friends and family members often send flowers as a way to indicate that their thoughts are with the bereaved. Flowers have become so mainstream, in fact, that some specialty providers deal only in funereal flower arrangements.
The reasons for sending flowers either to a funeral home or directly to the family are good ones. Although you may wish to set yourself apart from the crowd by attempting something less mainstream, flowers continue to be one of the best ways to send your condolences without making a difficult situation harder to bear.
The Origins of Sympathy Funeral Flowers
Originally, the practice of sending flowers to attend the burial of the deceased was to eliminate odors associated with the practical disposal of a loved one's remains. Flowers were also believed to emulate a garden setting, setting the tone with a visible representation of eternal springtime. As modern technology increased and allowed families more flexibility in their options, the desire to order funeral flowers persisted as an important part of the tradition.
Today, flowers are a great way to express emotions without adding to the burdens of losing a loved one. Sending a bouquet to the funeral home means that everyone will get to enjoy the sight of the flowers you provided – oftentimes in colors and styles that the deceased may have loved throughout his or her life. It's a way to personalize your contribution without trying to make the day all about you. After all, funeral flowers indicate respect, care, and sympathy, without any of the ostentation of a more flashy gift. And because fresh-cut bouquets require little upkeep, they also don't add to the cares and concerns the family is already dealing with.
Bouquets sent directly to the home are also an appropriate way to send your condolences. Oftentimes, the spaces the deceased once inhabited become fraught with memories and sadness. Fresh flowers can add incredible appeal to a space and emulate a garden setting, in which eternal life and beauty is stressed.

Flowers Say What People Sometimes Cannot
Expressions of sympathy can be hard to offer. The love you feel for the deceased is not always best said in words or in the message of a sympathy card. Flowers, however, carry a meaning all their own. If you know for certain what the deceased's favorite flowers or colors were, sending a bouquet that captures that can convey meaning not only to the family, but to everyone who sees it.
Flowers also have meanings all their own. Chrysanthemums, carnations, and lilies are among the most traditional funeral flowers offered. Typically white, they signify a return to innocence and the purity of emotion that accompany the journey through death. Oftentimes, these are interspersed with more colorful and vibrant flowers, like red roses or blue hydrangeas, which are also popular at funerals.
For a more personalized approach, you can also research traditional floral meanings before you order funeral flowers. For example, forget-me-nots are commonly associated with memories. Blue hyacinth indicates eternal constancy. Marigolds are believed to bring comforts to the heart. By choosing flowers with traditional meanings, you can tell a story in a funeral bouquet: the story of your love and respect for the deceased, or even the story of the life he or she lived. Although the meaning may not be clear to everyone, the sentiment always is, and you may be unintentionally providing comfort to others, as well.
Why Say It with Flowers?
Funeral flowers allow you to sidestep any of the issues associated with other types of gifts and offers of condolences, as they almost always allow you to provide support and share in the burden of mourning without adding any burden of your own.
Funeral flowers are always an appropriate way to indicate your love and respect, and they can carry much more meaning that a few well-intentioned words. Whether you do it to follow the traditions of funeral etiquette or you want to honor the deceased with a personalized touch, sympathy funeral bouquets will always remain the most tasteful way to indicate your respect.
Please share your thoughts on this article
Related articles