Expressions of Sympathy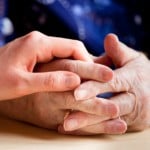 While some friends and family members find themselves deeply involved in funeral planning, others are instead searching for the most fitting expressions of sympathy. The appropriate expressions vary from culture to culture, as do so many of the customs that surround final arrangements. Those looking for the appropriate way to offer their condolences properly have several options available.
Funeral Flowers
One of the best-recognized expressions of sympathy is flowers. Arranged in a bouquet, basket, easel, or wreath, these outward signs of sympathy are often displayed at both the funeral home and the cemetery during the service. They may also be sent directly to the family's home to lend comfort during the difficult time.
Funeral flowers offer a bit of elegance and an affirmation of the beauty of life. The flowers themselves are meant to honor the deceased's life, so it is not important to worry about whether or not an arrangement is somber enough. Some people choose to send live plants that can be kept in the house or planted in a garden as an ongoing tribute. It is important to note that many religions do not follow traditional funeral flower customs, so you may need to alter your plan accordingly.
Cards
Another common expression of sympathy is a handwritten card or letter. Many families save and cherish sympathy cards for years along with the funeral program. Of course, it is difficult to know what to say in such times. There are many phrases that are used as appropriate expressions of sympathy, such as "heartfelt condolences," "with loving memories," and "our thoughts and prayers are with you." A loving, yet simple, gesture is to share a brief memory that you have of the deceased. This honors his or her memory and may even provide the grieving family with a smile. If you were not close with thedeceased, don't worry about sharing a story, and focus instead on extending your condolences.
Gift Baskets

A newer choice when it comes to expressions of sympathy, is to send a condolence gift basket. These baskets can be filled with a variety of items that the family will be able to use during this time and possibly even beyond. Condolence gift baskets might include flowers, as well as foods, and other small, useful gifts such as candles or inspirational books. Many of these items will be kept as an ongoing reminder of your expression of sympathy.
Time and Energy
Planning a funeral can be an overwhelming task, and that is in addition to the shock of losing a loved one. Those doing the funeral planning will often find that they have little time or energy to do daily chores such as running errands, grocery shopping, or even cooking. Taking on these tasks can be a very meaningful expression of sympathy. Consider cooking and delivering a meal, helping with child care, or assisting in any way necessary with final arrangements, if you are able.
Charitable Gift
Another touching and useful expression of sympathy is to make a charitable gift in the deceased's honor. Oftentimes, funeral plans will include a request to make such a donation "in lieu of flowers." In that case, the deceased or family will likely have chosen a charity. If this is not the case but you'd still like to express your sympathy in this way, choose an organization that is somehow related to the deceased. Did she love cats? If so, a donation to the ASPCA might be in order. Was he an avid volunteer? In that case, a donation to an organization where he spent his time would be very meaningful.
Receiving expressions of sympathy is an important part of the grieving and healing process for those who have lost a loved one. Choosing the appropriate gesture depends on the people involved. Whether you are involved in the funeral planning or simply sending a note to a coworker, remember that taking a few moments to acknowledge the loss is truly appreciated.
Please share your thoughts on this article
Related articles