How to Dress for a Funeral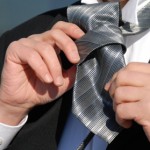 For many individuals, funeral planning is about more than preparing the body for burial – it's about preparing the entire family for the commemoration of a loved one's life. With this in mind, it's important to realize that funeral attire plays a big role in the days preceding the funeral as well as at the actual services. Now is not the time to pull out a flashy new wardrobe or show off a recently slimmed down figure; whenever you attend a function related to the funeral (even if it is just a casual meal for making final arrangements), you should always keep respect and tradition in mind.

General Funeral Attire Rules
Black is the most common color associated with funerals and funeral services, a practice that extends back hundreds of years. Although strict black attire isn't typically required, it's best to stick to muted tones of black, gray, dark blue, brown, or dark green.
Formality is a good idea during the funeral planning process as well as the funeral itself. For men, this means a suit and tie, slacks and a nice shirt, or other more formal wear. For women, slacks, longer skirts, and longer dresses are a good idea.
Accessorize appropriately. Garish jewelry, baseball hats, and flip flops should be left at home. If you don't have any understated jewelry or accessories, it's better to just go without.

Dress children in the right funeral attire. It's not necessary to purchase new clothes for the kids, even though few children have a closet full of dark and somber clothes. Stick to simple formal wear (without the bows and sequins).
Ask where the service will be held and for what length of time. Many funeral services are held outdoors at the cemetery or at a favorite location of the deceased. Prepare for the weather by either bringing warm outerwear or layering so that you can remove items in the heat.
Keep the deceased in mind. Depending on the wishes of the deceased and any funeral planning done in advance, the family may request that you wear a favorite color or steer away from darker, funeral clothes. Always remember that the family's needs should come first, and try to comply with their requests.
Pack separates. If you are traveling to a funeral from out of town, or if you'll be staying with family members while all the funeral plans are being solidified, be sure and pack a variety of different pieces that can be matched together. This will allow you to stay within the formal range while still being able to plan for everything from family dinners to the memorial service itself.
Preparing your closet for a funeral can be a difficult task, especially if you are helping with the funeral planning or if you have a limited budget due to the funeral costs. By keeping respect, honor, and tradition at the top of your list, you should be able to dress appropriately while still putting the emphasis where it belongs: on the deceased and his or her immediate family.
Please share your thoughts on this article
Related articles
Incoming search terms: