Sympathy Gifts for Men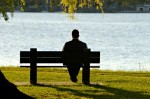 Most funeral gifts and sympathy offerings are geared toward a female population. Whether due to the natural progression of funeral trends or the fact that many types of comforting gift ideas are feminine in nature, the reality is that funeral gifts geared specifically for men tend to be more difficult to come by.
Grief and Gender
Men and women grieve differently—and there's no time that this becomes more apparent than following the death of a loved one. As a general rule, women are more likely to reach out to family and friends for support, and to make a physical show of their bereavement. Men, on the other hand, might withdraw or isolate themselves (and their grief), trying to be strong for others.

While this isn't 100 percent true for everyone (after all, every individual faces death in a different way), these types of trends can make it difficult to try and comfort a grieving man. He might reject your sympathy, value privacy over public spectacles, or make it generally awkward to try and reach out.
Sympathy Gifts with Men in Mind
Taking these general stereotypes in mind, the last thing you might want to do for a man in your life who is grieving is send a traditional bouquet of funeral flowers or a keepsake item with flowery words. Although appreciated, your gesture might not have the impact you want. Here are a few alternative funeral gift ideas for men:
A short, brief card: Skip the sympathy card with overflowing sentimentality and a long poem. Opt instead for something brief and to the point. It's a great way to show your support without pushing him out of his comfort zone.
Gift baskets with food: Funeral gift baskets can contain any number of items—but in this case, opt for a fruit basket or meat-and-cheese basket or even one that contains dried soups and other easy-to-prepare foods. Even if he doesn't eat the food himself, he can offer it to guests dropping by to pay their respects.
Memorial picture frame: Items with a clear purpose (in this case, a picture frame for a favorite photo) is preferable over pretty, knickknack-like memorabilia.
Items of comfort: You can opt for a memorial blanket, a new pair of slippers, or even a favorite book—anything that provides a small amount of comfort is an appropriate bereavement gift.
Journal: Journals work great in sympathy gift baskets. Although many men don't make their grief public, that doesn't mean they're not going through a tremendous amount of pain. A journal can be a great gift that allows him to write his thoughts without fear of them becoming widespread.
Even if you do opt to go the more traditional route and send flowers or another memorial keepsake, rest assured that your sentiments are being appreciated—even if the man's response isn't showy. Private grief is just as painful as public grief, and your kindness will mean a lot during this difficult time.
Please share your thoughts on this article
Related articles