Famous and Beautiful Cemeteries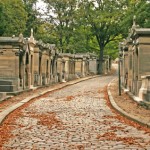 When making burial arrangements or funeral planning, many people pay attention to the ambiance of the final resting ground. After all, this is the place loved ones will visit for decades as a way to remember a life lived and lost.
Modern cemeteries tend to have a fairly clinical feel to them, with well-laid out plots and modest headstones – which is great for maximizing the available space and providing a serene place for visiting the graves of those we love. However, much of the charm of older burial grounds is lost in these types of cemeteries. In fact, some of the best places to be buried include those where a little bit of wilderness and a whole lot of history combine to create a verdant, timeless setting.

• Pere Lachaise in Paris is one of the most famous cemeteries and a tourist destination drawing thousands of annual visitors. This cemetery is home to such famous historical figures as Oscar Wilde, Edith Piaf, Honoré de Balzac, Marcel Proust, and Jim Morrison. It is considered by many to be the archetype for 19th-century graveyards all over the Western world.
• Mt. Auburn Cemetery in Cambridge, MA houses such figures as Buckminster Fuller, Henry Wadsworth Longfellow, and B.F. Skinner. It is an active cemetery, which means that it is still open to burials even today, though the historical section dating back to 1831 and the more modern burial plots are kept separate.

• Arlington National Cemetery is one of the most well-known burial sites, with the markers of over 360,000 American veterans. It extends for acres, the telltale white headstones making a powerful statement about U.S. history.
• Almost any cemetery in New Orleans is likely to provide a charming scenic backdrop, thanks to drooping trees, mossy overgrowth, and some good old-fashioned haunting stories. However, the most famous burial site in the city is the St. Louis Cemetery located just outside the French Quarter. Dating back to 1789, much about this cemetery reaches back to early American history and Southern traditions. (Bonaventure Cemetery in Savannah, Georgia is another great Southern cemetery, most famous for its role in John Berendt's Midnight in the Garden of Good and Evil.)
• Highgate Cemetery in London is a prominent Victorian cemetery that is a great example of the heavy Gothic influences of the time. Most of the growth is untamed and wild, and grows around the many tombs and gravestones laid out on either side of Swains Lake. The cemetery contains the graves of George Eliot and Karl Marx, and has also been used in literature as the setting for vampires and other explorations of the afterworld.
Because few people live in a location where famous or historical cemeteries reside, and because spaces within many of these cemeteries are either unavailable or limited, making burial arrangements in one of these locations is difficult. However, most cities do have older cemeteries with plenty of rich history located all along their paths.
If you are funeral planning or making funeral arrangements for a loved one, be sure and walk around the local cemeteries to get a feeling for this history and ambiance. Knowing that your loved one will be among such a rich tradition is important in being able to say goodbye.
Please share your thoughts on this article
Related articles
Incoming search terms: