Setting Up a Memorial Website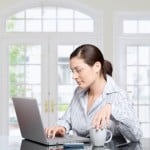 Technology has truly changed how we live, and it has also altered our funeral planning. While obituaries, funeral programs, and headstones used to be how we would remember loved ones, we now have even more options. Many people now construct memorial websites to honor their loved ones in perpetuity.
What is the Purpose of a Memorial Website?
Memorial websites as part of the final arrangements can serve many purposes. Some people use them to send good wishes to their deceased loved ones. Others use them as a way to collect memories and pictures of the departed. They can also be used as an online gathering place for loved ones of the deceased, giving them a place to come together to remember those who have passed away.
How to Build an Online Memorial

There are different ways to plan for a funeral memorial site. You can build the site yourself, but this will require some skill and know-how. If you do not have the ability to create a custom funeral program, there are services available to you. You can pay as much or as little as you'd like to have the
site created. Some online memorial websites are even free, although they are limited in their scope and the amount of pictures and content you can add.
Yet another option is to use a blog as a memorial website. Blogs are oftentimes free and easy to set up, and can be kept and updated indefinitely. You can share burial arrangements or funeral plans, or use it as a tribute to the deceased after the services have concluded. Either way, it can be a great way to keep loved ones in the loop regarding final arrangements.
Most memorial sites have pictures of the deceased, their dates of birth and death, as well as the highlights of their life story. Anything else that you want to include is up to you. It can be cathartic to express what the deceased meant to you, as well as to share happy memories on the site. These
sites can serve as a permanent memorial to a loved one, something that lasts well after the burial arrangements have been made.
Moving Forward
When using your memorial site, try to stay conscious of funeral etiquette. The site should, of course, be respectful. You can choose if anyone who comes across the site can add comments and pictures, or if it will be invitation only. If it is open to anyone, be sure that you can moderate the comments for content. Most people are very respectful of a funeral planning memorial website, but occasionally people will spam a blog with advertising or other content.
Memorial websites are a very modern and innovative way of remembering loved ones who have passed away. By paying tribute to them in such a lasting manner, many people find greater peace in the days after the final arrangements have been made. Just be sure to look into paid, free, or do-it-yourself options to see what suits the needs of your memorial website best, and you can create a lasting memorial to your loved one.
Please share your thoughts on this article
Related articles