New York Pet Cemetery is the Oldest in the World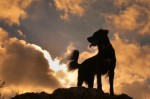 Pet cemeteries are an important part of the grieving process for many individuals who have lost a beloved pet. While most pet funeral plans include a backyard service or a call to the local animal shelter to handle the remains, it's becoming increasingly more common for individuals to opt for a formal service (ranging from pet cremation to traditional burial).
This practice is nothing new in the United States—in fact, the oldest pet cemetery in the world can be found in Hartsdale, New York. The Hartsdale Pet Cemetery facility, established in 1896, is currently the final resting place for tens of thousands of animals, and continues to provide a burial place for pets even today.
A series of stunning photos of the pet cemetery can be seen on the MSNBC photoblog. These photos demonstrate just how much pets can be a part of their owners' lives, and how the relationship between humans and their animal friends has been in place for hundreds of years.
Hartsdale Pet Cemetery
This particular pet cemetery was founded by a local veterinarian and ASPCA pioneer. He used his own land (on which an apple orchard stood) to provide families with a safe place to bury their beloved canine friends without fear of later development on the land. As more and more people turned to the pet cemetery, additional acreage was set aside for the express purpose of burying animals, which expanded to include pets other than dogs.

Today, pet owners can choose between plots small enough to bury ashes and large burial plots that can hold multiple animals (prices range from $300 to $20,000). As is the case with traditional cemeteries, the land is protected and maintained through irrevocable trust funds that ensure continued care of the land (and safeguards it against future development).
The cemetery can put you in contact with additional pet burial services, ranging from caskets and headstones to memorial keepsakes. Although funeral pre-plans for pets are available, they aren't required.
Other Pet Cemetery Considerations
Although Hartsdale Pet Cemetery is the oldest formal burial ground for in the world, and carries quite a bit of distinction, it isn't the only option in pet burial. Many pet cemeteries can be found throughout the United States, and most major cities have options in handling the remains of your animal friend.
Any distinction you give your beloved pet—even if it's scattering their cremains in a favorite field—can help with your grieving process and help you cope with loss. And while burying a pet at Hartsdale Pet Cemetery might be out of your reach (financially or geographically), a visit can be a great way to spend an afternoon if you happen to be in the area.
Please share your thoughts on this article
Related articles