How to Use the Internet to Plan a Funeral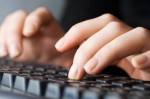 If you're reading this blog post, you already have some idea that the Internet can be a valuable funeral planning tool. Because of the wide availability of information online, and because more and more funeral homes are providing price lists and services via the Internet, you can accomplish everything from comparing prices to ordering caskets without leaving the comfort of your home.
However, as is the case with any purchase you make online, it's important to do your research and make safe and secure choices. Here are a few tips when planning a funeral using the Internet.
Know Your Rights: Before you do any funeral planning (either online or in person), know what your rights are according to the Federal Trade Commission. The FTC website offers quite a few materials for both traditional funeral planning and pre-plan funeral packages.
Find Resources in Your Area: Not all funeral planning options are available everywhere, and each state (and county) differs in terms of burial and cremation regulations. An online directory of funeral service providers can point you toward funeral homes, crematoriums, and cemeteries in your area.
Compare Prices: Funeral homes can make it difficult for you to opt out of services—especially once you're in a showroom and looking at caskets and other materials first-hand. By accessing a Funeral List ahead of time (and determining which options you want), you can come prepared to make smarter financial choices. You might also be able to find materials to purchase online and have delivered to the funeral home of your choosing.
Online Boards and Forums: One of the greatest advantages of the Internet for making important decisions is getting the feedback of other people in your situation. Although boards and forums do occasionally do more harm than good, the right ones can point you in the direction of services and highlight companies to avoid.
Investigate Company Claims: Pre-plan funerals are one of the best ways to save money while estate planning, since you can lock in today's rates or purchase a funeral insurance policy that will cover all your burial needs. However, the only way to do this successfully is to purchase your advance funeral package from a reputable company. Before you sign up for any service, be sure and check online to find all the information you can. It might also be a good idea to find a lawyer or other professional to help you at this time.
Of course, educating yourself is, more than anything else, the best thing you can do when funeral planning online. There are countless articles and information packets on the web that are free to read and use. Taking some time to get all the materials you need to make an informed decision is the best way to get the most out of your funeral planning efforts.
Please share your thoughts on this article
Related articles