Making Time for Yourself during Funeral Planning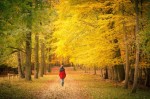 Funeral planning typically lasts anywhere from three days to two weeks, depending on your religion, your advance planning efforts, and the time (and place) of death. Although funeral homes and medical services have streamlined the way they provide funeral planning options to the public, there is still quite a bit of decision-making and coordination that goes into it, and even the generous end of the timeline can seem like a blur when you're facing your recent loss.
While everyone grieves differently, it is important to take some time during these funeral planning days to simply unwind—whether that means carving out some time alone or doing an activity you love.

Of course, that's often easier said than done. With relatives coming in from out of town, funeral plans to coordinate, and well-meaning guests stopping by, it might be hard to find the time—and the energy—to indulge in something just for you. Here are few tips for making it happen.
Get support from others. No one should have to plan a funeral or go through grief alone. Take help where it's offered and don't be afraid to ask for assistance if it's needed. Friends, family members, church members, neighbors, and even funeral home staff are almost always happy to lend a helping hand. Even if it's as simple a task as mowing your lawn, doing some light housekeeping, or preparing meals for guests, getting help on the small things can substantially improve your ability to cope.
Talk with professionals. Even if it's never occurred to you to solicit professional counseling before, now is a good time to open yourself up to the possibility. Religious officials, grief counselors, and bereavement support groups exist to help you work through your pain.
Exercise and eat right. You don't have to go to your regular aerobics class or take up running, but it is a good idea to stay active during this time. Gentle walks, relaxing yoga, and other low-key activities can improve your mood while also giving you some time to yourself to grieve. So, too, should you try to eat regular, healthy meals. Feeling sluggish because of diet probably won't help you make it through the difficult times.
Ask for what you want. This is one of the few times when you can say exactly what's on your mind without worrying about hurting other people's feelings. If you need some space, ask for it. If you would like company when you have to make funeral planning decisions or pick out a cemetery plot or even go to the grocery store, ask for it.
Take a leave of absence. Almost every workplace has a bereavement policy or can offer time off to recover from your loss. Even if it requires you to juggle some of your finances, try to take advantage of this opportunity. The extra time will mean more in the long run than the extra money.
It's also a good idea to look into funeral pre-plan options for your own family and future. While it might be too late to do anything about your loved one's funeral plans, there is still time for you to put your own affairs into order. By having everything taken care of and paid for ahead of time, you can free your family members up to attend to their own grief their own way—and that's something that everyone can use, regardless of whether they have three days or two weeks to do it.
Please share your thoughts on this article
Related articles