What to Expect from a Traditional Catholic Funeral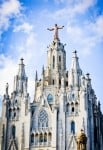 Catholic funerals are some of the most ornate in terms of tradition, regulation, and procedure. Although the church has loosened some of its rules in recent years (and most will allow burial alternatives like cremation), you can still expect there to be a standard format that you and your family will be expected to follow. In exchange for adhering to these rules, you get the comfort of time-honored traditions and funeral services run through the church itself.
Catholic Funeral Rites
Catholic funeral rites are designed to celebrate life, death, and the belief in resurrection. To this end, a funeral Mass is performed as a way to highlight both the loss of your loved one and the resurrection of Christ.
Funeral Mass isn't available to everyone. In most cases, the deceased will need to have been a parishioner at that particular church (or a close relative). In some cases, you may be able to request a funeral Mass for those who aren't members of the church but who have made a special request.

The funeral Mass is typically held in the morning (not on a Sunday, when regular church services occur), after which time the burial takes place at a nearby cemetery. Families may opt for a wake or vigil ahead of time, in which the body is viewed and family and friends gather. Depending on your preference, this can take place either at the church or at the funeral home. Additional options to hold a wake at home may apply.
Catholic Burial Regulations
Although every parish and church is different, most operate under similar strictures.
Most will allow a funeral Mass even if the deceased opted for cremation. However, the deceased's remains may need to be buried or kept in a mausoleum (as opposed to being scattered) in order to qualify.
While flowers, photographs, and other memorial items are allowed, they may not block the view of key areas. It is also asked that these remain in keeping with the general tone of the church atmosphere.
Because a funeral Mass is a church service, music is typically provided by church officials. They will most likely provide an organ player, help you select the appropriate hymns, and provide you with a music coordinator to work through the details. (The same is true of scriptural readings.)
Processions generally follow a prescribed format, in which individuals enter and leave the service in order (servers, presider, casket, pallbearers, family).
Eulogies are usually not part of the service. If you or a loved one wishes to speak on behalf of the deceased, it is best to plan this at the wake, at the cemetery, or at the reception following the funeral.
Additional Considerations
If you are having (or attending) a Catholic funeral, you can expect quite a bit of formality and funeral etiquette. Most of the above information has only to do with services performed at the church itself; you may also opt to hold the funeral at a funeral home. Although it won't carry the same weight as a more formal Catholic funeral, you can still incorporate your chosen rites while also enjoying more flexibility in where and how your funeral plans take place.
Please share your thoughts on this article
Related articles
Incoming search terms: