Is it Okay to Take Photos at a Funeral?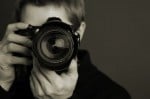 In the modern age, funeral etiquette can sometimes be a difficult thing to uphold. While whipping out a camera and taking photographs at a funeral might once have been something no one would dare to do, the increase of portable technology (especially high-quality camera phones) means that just about everyone is five seconds away from a photo opportunity.
However, this is one of those instances in which just because we can do something, doesn't necessarily mean that we should. Depending on family preferences and the nature of the funeral, it might be better to keep that camera under wraps unless you have permission from the family to capture the big day.
History of Funeral Photography
Funeral photography is nothing new. As soon as photographs became fairly mainstream in the late Victorian era, it was a mark of prestige and honor to have a formal photo of the deceased taken (known as memento mori), often with the deceased in a lifelike pose or with the whole family gathered round.
While our modern sensibilities might shudder at the thought of going so far as to pose with our loved ones after they depart, photography at funerals does occur more often than you think—and if done right, it can be a touching tribute.

When is It Appropriate to Take Funeral Photos?
Some families will actually hire a professional funeral photographer to come capture the day of the memorial service. These professionals rarely take pictures of the deceased (unless there is an open casket and the family requests it), instead gathering memories of the people in attendance, the funeral flower displays, the casket, military honors, and the lowering of the casket into the ground.
Like wedding photos, these pictures tend to become keepsakes as the years go on. While it might be too painful to look through the photos soon after the funeral, the years can transform them from painful memories to treasured ones—especially since they can be handed down to future generations.
Personal Cameras and Phones
Even if the family chooses to have the funeral captured by a professional photographer, it's a good idea to ask before you take candid shots with your own camera. Be sure and clarify your purpose in wishing to take pictures. Are you hoping to get a family photo with other guests? Want to take a picture of the funeral flowers you ordered? Are you setting up a memorial website and want pictures to be added to the page?
Knowing how and why the photos will be taken can help those who might not be completely comfortable with the idea—especially if you can promise that the pictures won't end up on the Internet or a Facebook page against their wishes.
Please share your thoughts on this article
Related articles