What are Cremation Societies?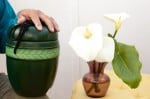 If you've chosen cremation as your preferred funeral planning method, or if you're simply gathering information on the burial options available to you, you'll probably encounter the term "cremation society." This term is loosely defined as an organization that provides specialty cremation services as part of a funeral pre-plan package.
There are currently several cremation societies in operation in the United States—both national organizations and smaller, local organizations licensed to operate in individual states . For a fairly small membership fee (usually around $100 per person), you are granted access to cremation services through that organization and/or their partners. Benefits to membership may include:
Cremation pre-planning packages
Personalized support
Discounted cremation options
Funeral planning guides
24 hour service
Notification of proper authorities (Social Security, Veterans Affairs, etc.)
Transportation and handling of remains
This last option (the actual physical handling of the remains, up to and including direct cremation) typically comes at an additional cost. These types of organizations strongly encourage their members to pre-plan funeral arrangements, including making advance payments. If this is an option you choose, be sure that the organization is licensed to operate in your state and that all monies go to a refundable trust that will allow you to make changes at a later date.
Why Choose a Cremation Society?

One of the biggest benefits to this type of service is paying to have all the cremation coordination done for you. When you allow a company to pick up your remains, transport them to the crematorium, and provide your family with the urn—without the need for additional paperwork, payments, or planning—it can be a huge emotional relief. So, too, is this a good option if you don't live in an area with immediate family who can handle the burden of planning your funeral.
Drawbacks to a Cremation Membership Service
However, there isn't just one cremation society (in fact, the term is most often applied to individual companies specializing in cremation services), and not all of them operate the same way. In some cases, you may simply be paying for information which is readily available (and free) on websites, blogs, and through the Federal Trade Commission. In other cases, you may be tied into a contract you don't want or that isn't transferable should you move or change your plans. You might also be able to get the same level of service from a funeral home, without the need for a membership fee.
Before you sign on for any type of cremation program, be sure and read all the fine print and, if applicable, talk with loved ones or your legal adviser.
Please share your thoughts on this article
Related articles
By Amy Johnson