What to Expect the Day of a Funeral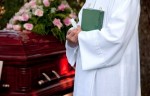 With all the preparation and hard work that goes in to planning a funeral, many people find that they are emotionally drained and exhausted by the time the day of the actual memorial service takes place. By knowing what's expected of you and how you can equip yourself to get through it, you can take more time to grieve and take part in the proceedings.
Look to Your Funeral Director for Support: Your need to rely on a funeral director is the number one reason why it's a good idea to choose a funeral home that makes you feel comfortable and taken care of. Funeral directors will most likely sit down with you in the days preceding the funeral to go through the details of transportation, timelines, funeral flowers, and what contributions you need to make. Funeral programs can come in handy as a written form of the day's anticipated events.
Come Prepared: Bring tissues, extra water, snacks, and anything else that might help you keep up your strength for the long day ahead. A change of clothes, makeup to re-apply, and comfortable shoes can also help.
When to Arrive: Depending on whether or not you are having a body viewing, visitors may begin arriving about an hour before the service starts. Ideally, you should be present and in place before any visitors show up so that you can greet them and help them settle in.
Where to Sit: Family members typically sit in a reserved area during a memorial service. This might be in a private room or in the front rows of the room (or church). Visitors arriving may need assistance being directed to seats, so you can either designate an usher or ask the funeral home to assist you.
Personalized Touches: No two people grieve the same way. You might wish to give a eulogy or stand up to speak of the deceased, or you might prefer to sit quietly on your own. However you choose to proceed is perfectly acceptable. This is also the time when the decisions you made regarding music, readings, photos, keepsakes, funeral flowers, and other touches will come to play. Try to leave most of the last-minute details regarding these items to the funeral director so that you can concentrate on saying your goodbyes.
Transportation Issues: Chances are you already decided what kind of transportation you want from the funeral home to the cemetery (limousine, procession, etc.). Trust the funeral home to take care of the rest. You will most likely be directed to park in a particular pattern to make the procession easy, and a police escort will be on hand to help keep traffic at bay while you make your journey.
At the cemetery: When you arrive at the cemetery, everything will be set up for you. Seating is typically reserved for family and/or the elderly, and you may have another ceremony as the body is laid into the ground. Funeral flowers, somber music, farewell salutes, and other tributes may apply.
Once the funeral is completed, you will most like leave the cemetery at your own leisure. The funeral home will clean up the memorial service area for you, but you will need to stop by to pick up the flowers and other personal effects. Designating someone to handle this task can be a great way to avoid over-exerting yourself.
Depending on your plans, you may go from there to an after funeral gathering at a restaurant, pub, or private home. If you don't have one of these arranged, make sure you do plan for some kind of activity (even if it's just taking a walk or visiting a place you and the deceased shared) to avoid a feeling of deflation from all the funeral planning coming to an end.
Please share your thoughts on this article
Related articles

For many people, the death of a pet is just as emotionally devastating as the loss of a human friend or relative. Pets often serve as companions for decades at a time, and to lose them suddenly can cause deep feelings of regret and grief. Because ... more »

One of the best ways to comparison shop for the best prices when planning a funeral is to call the home ahead of time to determine their rates. According to the Funeral Rule, funeral service providers are required to give consumers who contact them v... more »

One of the most overwhelming and often overlooked aspects of funeral planning is taking care of the gravesite long after the deceased has passed on. Although most cemeteries offer some form of on-site caretaking (such as mowing and weeding, clearing ... more »