When Should You Hold the Funeral?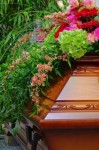 Because few people are ever prepared for the death of a loved one, it's difficult to time the funeral just right. According to some religious customs (particularly the Jewish faith), the deceased should be buried within three days following death. For others, there might be delays due to autopsy reports, family flying in from out of town, or personal preferences.
Whatever your situation, it can be difficult to decide on a day of the week and a time for a funeral. Depending on the type of ceremony you plan on having, you may be restricted in your options.
Religious funerals rarely occur on Sundays. If you're including a mass or asking a religious official to perform the memorial service, you may have to opt for a non-weekend funeral. Sundays tend to be regularly scheduled church days, and Saturdays might be busy due to weddings (especially in the summer months).
Workdays require vacation time. Although most people are happy to take a day or two off from work to attend a funeral or to help with your bereavement, it can be a restriction. For this reason, a large percentage of funerals occur on Mondays and Fridays, when attendees can simply extend their weekend.
Out of town guests require planning. While you might want to have the funeral as soon as possible for personal reasons, it's important to ensure that everyone has time to figure out their travel plans. Three days to a week of planning time is considered polite.
Funeral home openings play a role. Yours probably isn't the only funeral that week (or even that day). Busier funeral homes will only have select times available for your family to convene.
Don't schedule on important dates. If there is an upcoming birthday, anniversary, or holiday, try to avoid scheduling the funeral on that date. It can be traumatic for the individual celebrating that day, and also carry unpleasant memories for the future.

Times of the day also play a role in the ideal funeral planning process. For example:
Childcare may be necessary. Young children aren't always welcome at a funeral, and their parents may need to make alternate arrangements. So, too, might older children need to be taken out of school to attend. Keep relatives with kids in mind when you select a time of day.
Morning vs. afternoon? If the deceased was a morning person, a sunrise service might add a nice touch. For those who work, it might be easier to take a half day and leave early in the afternoon than to attend a funeral in the middle of the day.
Be done by dusk. Although most people eschew superstition, few people care to be in a cemetery after dark. Many cemeteries also close their gates at night to prohibit loitering. If the funeral will be running on the long side of things, plan for it earlier in the day.
There is no way to please everyone when it comes to planning a funeral, but you can take advantage of funeral etiquette and do your best to find the right time. Talk with your funeral director for more information on selecting the perfect date.
Please share your thoughts on this article
Related articles