What Type of Metal Should I Choose for the Casket?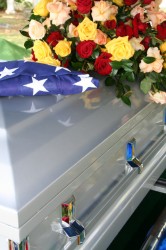 When making funeral plans for a loved one, around 60 percent of families who opt for burial choose metal caskets. These sleek-looking designs are hailed as the best choice if you are hoping to preserve the integrity of the casket for as long as possible. Although your loved one's remains will decay no matter what, the metal caskets will stay intact for hundreds of years.
Of course, "metal" is an all-encompassing term, and you have several types of caskets to choose from. Here's a brief overview of what you can expect.
Gauged Steel Caskets: The most common types of metal caskets are made of a lightweight steel alloy, which is offered in various gauges. You'll most likely see options like 16-gauge steel, 18-gauge steel, and 20-gauge steel. These numbers are used to identify how thick the metal is, with lower numbers being thicker than the higher numbers. (For comparison purposes, most household sinks are 18-gauge steel.) Because of their relative thickness, lower gauges are more expensive than higher ones, and most families can choose the low-cost 20-gauge steel without noticing any difference in appearance.
Copper and Bronze Caskets: Because they are precious metals, copper and bronze caskets are considerably more expensive than their steel counterparts. Like gauged steel, these come with varying numbers. At most funeral homes, you'll find 32 or 34 ounce options. This number represents the weight of 1 square foot of the material. Depending on market value of these metals at the time of purchase, these can run anywhere from $5,000 to up to $50,000.
While metal is more durable over time than wood, these caskets aren't impenetrable, and they won't last forever. The air-tight seals will help slow the process of decay, but the body will eventually decompose, the metal will eventually rust or lose its sheen, and chances are slim that anyone will ever look at the casket again.
If you're looking to reduce funeral costs, your best bet is to consider hardwood or even fiberglass casket options. If you want metal but aren't sure which one to choose, ask yourself these questions:
How important is appearance at the wake and/or visitation?
What is the most important factor in choosing a metal casket: looks, durability, or cost?
Am I feeling pressured to choose a lower gauge steel, or is that what I really want?
What is my stance on putting unnecessary metals into the earth?
No matter what you choose, metal caskets provide an elegant touch to a funeral. As long as you are aware of the other options out there and know your reasons for choosing one metal over another, this is a viable option sure to leave an impression on mourners.

Please share your thoughts on this article
Related articles

Some of the most touching funeral stories in the media are the ones about dogs who mourn their owners long after they're gone. The beloved pet who sprawls in grief at the base of the coffin, who sits tirelessly by the burial site for weeks or even ... more »

The cremation process is difficult for many people to picture happening to their loved one's remains. Unlike burial, which gives a feeling of calm quiet and eternal rest, cremation is hot, messy, and oftentimes frightening. You might be afraid that... more »

Modern Jewish funerals follow in a long line of traditions and practices that have been around for centuries. Depending on the wishes of the deceased and the family he or she leaves behind, a Jewish funeral can be highly traditional or follow a more ... more »