Things to Ask Your Funeral Director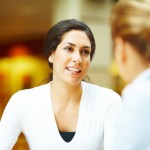 Whether you're funeral planning for yourself or facing the recent loss of a loved one, you will most likely work with a funeral director to ensure that all the burial and/or cremation arrangements are set. Funeral directors are the professionals who either run a funeral home or are hired by the funeral home to assist with end-of-life arrangements. Larger funeral homes may have more than one director, so that the attention and time you need is available.
Some of the decisions you make together will be the most important and difficult you will ever encounter, so being comfortable with the professional in charge is a good idea. Questions to consider include:
What is your background? The funeral director's experience and past history (for example, if he or she was a member of the clergy) will have a strong bearing on the funeral plans. Someone who has lived and worked in the area for years will have a better idea of the services available to you, and is more likely to have professional connections. Adherence to national and state laws regarding funeral services is also an important part of the funeral director's past.

What can I expect to pay? Funeral costs shouldn't be a secret. Whether you purchase a funeral package that includes certain benefits or if you buy each component of the funeral individually, you should be told up front what each part costs. You should also be allowed to see a final cost before you sign any contracts, and no barrier should be put up if you choose to purchase a casket or other services from an outside vendor. If you are pre-planning a funeral, there should be clear stipulations for what occurs if the funeral home goes out of business or is sold to another company.
What burial arrangement options are there? There are many more body disposition options than simple burial or cremation. Your funeral director should know what is available to you (including above ground mausoleum interment or body donation) and refrain from influencing your decision.
What can I expect from you? In addition to services like coordinating a memorial service, setting up a procession to the cemetery, and getting all materials printed up, many funeral directors can also be depended on for comfort or for putting you in contact with resources (both emotional and financial) that will help you with the funeral planning process. Knowing what your funeral director is willing and able to provide will help clear up any potential misunderstandings.
Your funeral director will be your assistant and guide in the funeral planning process, and it's important to ensure that you can place your full confidence in his or her professional ability. You should always know your rights as a consumer and ask questions if anything doesn't feel right. Funeral planning is already an emotionally turbulent time, and you don't deserve a professional who will make your grief any harder to bear.
Please share your thoughts on this article
Related articles