Save Money with a Green Funeral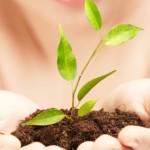 If you're a fan of recycling, turning down the thermostat, and otherwise doing your part for the environment, then you may have already considered a green funeral in your funeral planning process. If you simply like to save money, however, you might also want to pay attention to this newer option in funeral arrangements.
What is Involved in a Green Funeral?
Those opting for a green funeral will generally avoid being embalmed, a service that does come with a price tag that will often range from $100 to $700. One of the most expensive aspects when adding up the cost of a funeral is the price of the casket. These items can be extremely elaborate with a price to match. In the case of a green funeral, however, the remains are usually placed into a biodegradable container. This could be a cardboard box, a simple shroud, or even a plain wooden casket.
Other portions of the typical funeral that both add to the bill and the environmental impact include concrete burial vaults and grave markers. The vaults are made of reinforced concrete, and it is estimated that as much as 1.5 million tons of the stuff are buried in cemeteries every year. In many cases, they're actually required because of the cemetery, rather than by law, as they keep the graves from sinking and make the landscape look nicer.
There are some cemeteries that don't require vaults, but the real story here is the green cemeteries. These have actually been certified to only perform green funerals on their property. The Green Burial Council certifies cemeteries at four levels, with each representing a different set of standards. Some conservation groups have even been able to utilize green funerals as a method to protect areas of land.

Save Your Sympathy Flowers
Another easy cost to overlook is that of funeral flowers. While the use of flowers may seem very "green," since they are provided by the earth, the floral industry is generally not very environmentally friendly. Literally tons of pesticides and other chemicals are used to grow "perfect" flowers. In addition, they are grown all over the world and are then shipped to local florists, creating a huge carbon footprint for one simple bouquet. Oh, and they're expensive.
Consider skipping the flowers altogether to save some money and to do a little something good for the environment. To really get into the spirit of things, you may also encourage attendees to make contributions to a charitable organization (maybe a land conservation group, for example) in lieu of flowers. Both funeral homes and houses of worship—the places most likely to host a funeral—are often beautiful places to begin with and don't necessarily require the addition of funeral flowers.
Funeral Planning Ahead
When you look through your funeral planning checklist, you will likely find that there are several areas in which you can save money. Pre-planning a funeral can be one method for cutting costs, as decisions will be made with a clearer head than when one is in mourning. Planning a green funeral is a great way to lower the overall expense while also managing to do something good for the environment.
Please share your thoughts on this article
Related articles