Funeral Attendance and Etiquette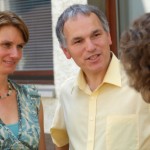 Should you send funeral flowers? Is it OK to wear blue instead of black? What should you say?
These are all questions that may run through your mind when planning to attend a funeral. Times like these tend to cause people to walk on eggshells, and knowing the proper funeral etiquette can be helpful in alleviating some nerves. Being aware of what to expect and the role you will play can make funeral attendance less intimidating. If you plan to attend the services or send funeral flowers, you should be aware that there could be multiple services. For example, a "visitation" or "viewing" may take place at the funeral home sometime before the actual funeral or memorial service. This can be a time to visit the deceased and to lend kind words to the family. The memorial service itself can be held at the funeral home, a house of worship, or even in the cemetery.
Etiquette for Attending a Funeral
Family and close friends will be seated in the first few rows, and it is polite to fill the rows directly behind them first in order to lend your support and comfort. A funeral is definitely an event for which you should be on time, in fact, it is best to be about 15 minutes early. f you do arrive late, quietly take a seat near the back.

Some funeral ceremonies will include an opportunity for guests to speak. If you have something relevant to say, you can feel free to do so. Try to keep your remarks fairly brief and in a positive tone. It is not necessary to speak; however, you should participate if songs are being sung or prayers are being said. Remember that you are honoring the traditions of the deceased, so if you have a difference of religion you don't need to join in the prayers but should rise and sit with the others and remain respectful.
The memorial may be followed by a graveside service at the cemetery. In this case, proper funeral etiquette dictates that you leave the memorial promptly and wait at your car for the procession to start. The procession will be lead by the hearse, with the bereaved family following directly behind and the other attendees falling in line behind with their headlights on.
Expressing Your Condolences
You will have an opportunity at the visitation, memorial service, or burial to offer your condolences to the grieving members of the family. This can feel very awkward but is an important part of the mourning process. Some of the most common things to say are "____ will be sorely missed," "I am so sorry to hear the news," or "___ was a wonderful person." A few kind words from visitors is all that is expected, although you may also send funeral flowers or make a charitable contribution in the deceased's name.
Please share your thoughts on this article
Related articles