Notifying Family Members of a Recent Passing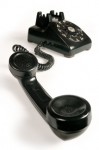 One of the most often overlooked steps in funeral planning is communicating the passing of a loved one to others. While an obituary will do a good job of notifying the general community of the death, including where they can send flowers or attend a memorial service, those who were closer to the deceased deserve a more personalized message. However, since you're likely to be grieving during this time, picking up the phone to make fifty phone calls might be more than you can handle.
Whenever possible, the news should be shared in person or over the phone—especially for those closest to the deceased or if the death came as a sudden surprise. There is no alternative for having a physical shoulder to cry on when the worst occurs.

Because this isn't always possible due to considerations of time, location, and your own ability to withstand that kind of emotional overload, here are a few alternate options.
Phone List: There are organizations that exist to help spread information fast. Automated phone calling services have long been used by telemarketers and politicians, but they are also useful on a smaller scale for death notifications, prayer requests, or the spreading of other pertinent information. When you sign up for this kind of service, you can record your personalized message and have it sent to a select list of phone numbers.
Plan Ahead: Many schools and kids' groups have "phone trees," which are essentially call lists that reduce the burden on any one parent. Each person on a phone tree is responsible for calling five people, who then have their own list of five people to notify. (For schools, it's usually for a cancellation or change of plans.) Large families who are spread out over huge areas might benefit from a phone tree—regardless of whether it's to notify others of death or of happier events like birth or graduation celebrations.
Email: These days, just about everyone has access to email, and you can notify hundreds of people in your address book within seconds. While an email can get the information out quickly, it is an impersonal way to share the passing of a loved one—and hurt feelings might result. This option typically works best when used to update people on a funeral location or announcement, rather than informing them of the death itself.
Social Media: Under no circumstances should you notify relatives and friends of a death via Facebook, Twitter, or any other social media site. Although the information is likely to make its way to these sites before too long, continue to make personalized notifications and prepare to answer the inevitable questions that follow.
You aren't obligated to notify everyone the deceased ever knew about his or her passing, but it is a good idea to make sure you ask family members if they can think of anyone else who might need to be called or visited. Making notifications isn't a commonly discussed aspect of funeral planning, but the sound of your voice might be all that's needed to make a bad situation just a little bit easier to bear.
Please share your thoughts on this article
Related articles

Sitting down with your loved ones and having a frank discussion about death, dying, and burial is tough to do. In our culture, we do everything we can to avoid or even deny the realities of death, often leaving all the decision-making and funeral... more »

One of the fastest ways to save money on a funeral is to trim away extra services and products you do not need. Today's funerals tend to be elaborate, traditional affairs that take every detail and consideration into account—which is great if... more »

Although what you wear to a funeral is important in showcasing your respect for the deceased and his or her family, it's equally important to pay attention to your hair. As is the case with any semi-formal gathering, it's the overall image you pr... more »