From Pink Caskets to Camouflage Casket Liners: Customizing a Loved One's Burial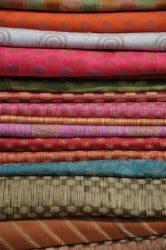 When most people plan a traditional burial during funeral plans, they do it because there is comfort to be found in the familiar. The act of saying goodbye to a loved one is something that everyone goes through at some time or another, spanning generations and cultures and even socioeconomic status. No matter what the circumstances of your loss, knowing others have gone through the same funeral planning steps you have is a good way to put your grief into perspective.
Of course, that doesn't mean you can't personalize a funeral. Some of the best traditions are the ones we make ourselves, and customizing burial is easier than ever before thanks to retailers offering more options in casket colors, materials, and details. For example, pink caskets are growing in popularity among female burials (or may even be purchased as part of the breast cancer awareness campaign). Offered in everything from a delicate shell to a more vibrant shade of pink, caskets like these allow you to add a touch of color and whimsy to an otherwise bleak day.
Caskets like these come in a variety of colors and materials. Both hardwoods and stainless steel options can be tinted or finished with the color of your choosing, or they can come with specialty decals or other hardware that is unique to your loved one. These are especially lovely if you'll be having a body viewing or casket viewing prior to the service.
Other Custom Casket Options
Not everyone wants to veer too far from tradition, and that's okay. Pink caskets aren't for everyone, and you can add color in the form of custom casket liners or pink casket flowers instead.

Casket liners (not to be confused with burial liners, which go around the casket underground) are the bedding on which your loved one rests inside the casket. Traditionally composed of white satin or taffeta, casket liners are easy to customize. Options range from camouflage or paisley fabric (for those who want to make a statement) to higher-end silks in a range of hues.
Casket flowers also provide you with a chance to add color and personalization. The spray of funeral flowers that sits atop the casket during viewing and/or burial can be chosen to match the colors of the casket and casket liner.
How to Find a Pink Casket and Other Unique Casket Features
Not every funeral home will carry a pink casket or options in casket liners in their showroom, so be sure and ask if you're interested in this type of personalization. Most can special-order a casket to your specifications, and you can also shop online to find what you're looking for.
According to funeral regulations in the United States, funeral homes are required to accept caskets from third-party vendors, so there is little limit to what you can choose when it comes to burying your loved one.
Please share your thoughts on this article
Related articles