Colorado Coffin Races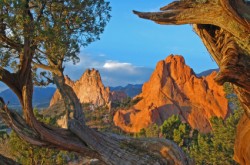 Not everything related to funerals and funeral planning is grim. In celebration of Emma Crawford, a historical inhabitant of Manitou Springs, one Colorado city holds an annual coffin race. That's right: coffin race. With a bizarre mixture of respect and irreverence for the traditions of death, local residents craft rolling coffins that are pushed through the city streets in a kind of race-parade that draws up to 15,000 spectators every year.
Timed to coincide with Halloween, the Emma Crawford Coffin Race is based on a local story about a young woman who moved to the city in 1889, hoping the air and mineral springs would cure her of tuberculosis. The cure didn't take, and Ms. Crawford died just two years later. Her story might have ended there, but storms and erosions caused her casket to become dislodged from her mountain burial site and slide down the hillside in 1929, uprooting her final resting place.
In 1994, when the local chamber of commerce was searching for a way to boost tourism, they decided to honor this local tale by holding a coffin race (though not down a mountain) in Emma Crawford's honor.
Equal parts race and parade, the race is now a huge annual event, complete with costumed racers, elaborate coffins made up like floats, and real hearses that lend a touch of sobriety to the event.
Celebrating Life and Death

While the coffin races are meant to serve as a fun city event, drawing locals together and highlighting the town's quirky past, there's no denying that they bring with them an underlying tone of death, dying, and funeral planning. And here at iMortuary, we can't help but feel this is a good thing.
By making death more accessible with events like coffin races, the doors are opened for conversations between family members and entire communities. Halloween is already a good time to start thinking about what you want done with your remains after you die, and talking about events like these—where death isn't feared so much as celebrated—you can create a safe place where issues like financial planning, the merits of burial versus cremation, and the dissolution of your estate can be discussed.
You can also have a bit of fun doing it. If you live in the Manitou Springs area, the annual coffin race is a great way to spend a weekend. Death doesn't have to be scary, and it doesn't have to be the end of a journey.
For more information on the Emma Crawford Coffin Races, you can visit their Facebook page at: https://www.facebook.com/pages/Manitou-Springs-Emma-Crawford-Coffin-Races/383956185007.
Please share your thoughts on this article
Related articles

Although florists make it easy to order funeral bouquets no matter what the time of year, it can be nice to take a seasonal approach to sympathy flowers. Not only is better for the environment to order in-season flowers (those exotic blooms you c... more »

Seemingly, one of the easiest ways to save money on funeral costs is to purchase your casket at a third-party provider. Caskets tend to be the most expensive item on a funeral price list, and shopping around might save up to thousands of dollars. Alt... more »

The iMortuary team thanks guest author, George Shaw for this blog post. As we age, we begin to think more deeply and realistically about how we would like to be remembered in the future. Certainly, for those who have substantial financial mean... more »