Funeral Pre-Planning: Cash Advance Items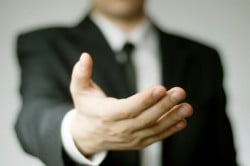 Advance funeral planning is becoming an increasingly popular choice for people who want to handle the burden of burial before death occurs. With so many different funeral pre-plan packages to choose from and the opportunity to relieve your loved ones of the costs and stress associated with burial, it's no wonder why.
Because it is impossible to predict death, the only way to ensure that pre-planned funerals work is to bind everything in a legal contract or agreement. Every contract is a little bit different depending on where you go and what type of service you choose, but one thing that everyone should be aware of before signing on the dotted line is what the fine print says regarding cash advance items.
What is a Cash Advance Item?
When you enter into a funeral pre-plan with a funeral home, they are often able to offer you a good price on services because they control the costs of operation within their own facility. The price for things like embalming, caskets purchased through their showroom, funeral director fees, use of their memorial service rooms, and other common funeral items that they can change are easily locked in and sealed with a signature.

However, third-party costs don't necessarily fall under the same category. Known in the funeral industry as "cash advance items," these are items whose price funeral homes cannot control. Because many years might go by between the time you purchase a funeral pre-plan package and your death, costs for these items often rise quite substantially.
Cash advance items include things like:
Crematory Services
Funeral Procession Transport Services
Funeral Flowers
Musicians
Obituary Notices
Death Certificates
Instead of covering the complete cost of these items, a funeral pre-plan may provide you with a pre-determined cash payout for you to use at your discretion. This means that on your funeral plan agreement, you should see a list of items that fall under the cash advance category, along with a price for each one. Upon death, your beneficiary will receive the figure noted (or have that figure used to pay for the provisions), and any discrepancy between the cash advance amount and the actual cost will have to come out of his or her pocket.
Why Cash Advance Items are Good for Everyone Involved in Funeral Planning
Cash advance items are a great way to ensure that your rights as a consumer are protected. By creating a specific list and outline of what you can expect from a funeral home, you should be better able to make an educated decision regarding which funeral pre-plan is right for you—and your family will also have a better understanding of their rights. If you have any questions about the cash advance items (or about any aspect of a funeral pre-plan agreement), be sure and talk with an attorney or estate planning professional before you sign the contract or write a check.
Please share your thoughts on this article
Related articles