How to Pick the Right Funeral Home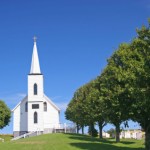 It doesn't matter whether you're getting ready for funeral planning, or if you're in the midst of the sudden death of a loved one – picking the right funeral home can be a difficult choice. From traditional funerals that incorporate religious customs to more modern green funerals, there are many different ways to honor those who have passed, and all of them come with their own benefits and drawbacks.
That's why making the right decision in planning a funeral is such an important first step. After all, finding the right location will allow you to not only respect the wishes of the deceased, but also to provide a proper outlet for grief for all the family members and friends.
Considerations When Choosing a Funeral Home
Perhaps the most important thing to bear in mind when funeral planning is determining which funeral home is the most convenient. Most people prefer to keep services local, and may return to use a funeral home that is in an ideal location and that they've used in the past. This kind of familiarity – both in terms of location and in the way the services are run – can be very comforting and help to streamline the process of making all the decisions.

Other factors include:
Size: If you are going to have a large number of people attending the funeral, you will need to ensure that the reception room is big enough to hold everyone comfortably. Smaller funeral homes might also be better if you're hoping to keep the services intimate. You might also want to consider the presence of additional rooms, if you'll need them.
Appearance/Style: Although most funeral homes follow the same general style (quiet and formal), more and more locations are offering alternatives. Green funeral homes might provide a more relaxed setting, while more other locations might offer more in the way of open spaces and modern décor. While you plan the funeral, make sure you are comfortable with the state of the funeral home as well as its upkeep.
Staff: Your funeral director and the other staff members are your guides through the funeral planning process. You should feel comfortable with the staff and trust them to help you make the right decisions. If you plan on bringing in outside items or traditions, make sure the staff members are willing to support your decisions, even if they don't agree.
Level of Service: Funeral planning encompasses several different levels, including everything from full-service (a funeral home that takes care of all the details) and specialized service providers (such as those that sell items for the funeral) to limited service providers (which might provide burial services but not ceremonies). Depending on whether you're hoping to save money or simply get things done as quickly as possible, different types of services might be right for you.
Big Business: There are two primary types of funeral homes – those that are run independently and those that are part of a major corporation. Independent funeral homes may be more personalized and offer more competitive costs, while corporations might have a greater number
of options and more connections to the services you want.
Regardless of what type of funeral home you are considering, time is one factor that everyone has to face. Following an unexpected death, you typically have only a few days to decide which funeral home is right for you, which may make it difficult to get the perfect location.
This is one of the many reasons why funeral pre-planning is such an important step. Not only can you take the time to find the funeral home that matches your wishes and aesthetic, but you can also take costs into consideration and relieve your family of much of the burden of the decision-making process.
Please share your thoughts on this article
Related articles