Popular Funeral Verses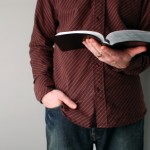 One of the more common parts of a memorial service is the reading of favorite Bible verses or poetry that you and your family choose. As far as funeral planning goes, this isn't the most difficult decision you'll make, and there is no "wrong" way to choose a funeral verse, but it is good to take some time choosing what will be read and who will be responsible for the reading. That's because in addition to honoring the deceased, there can be great healing to be found in the wisdom of others.
Bible Verses
Virtually any Bible verse can be used during a memorial ceremony, since so much of what brings us comfort when facing the loss of a loved one has to do with putting our faith in a higher power. That being said, there are a few verses that highlight the afterlife and are popular for funeral plans. Some of these include:
• Romans 6:3-9
• Romans 14:7-9
• I Corinthians 15:51-57
• Philippians 3:20-21
• Revelation 21:1-5
• John 5:24-29
• John 6:37-40
• Ecclesiastes 3:1-11
• Timothy 4:6-8

Funeral Poetry
Funeral poetry typically takes on the form of either traditional poetry or songs. Songs can add a nice touch to a memorial service, since you can either have someone play (and sing) the music, or you can play a recording of the song during the service or in the time immediately after. A poetry reading can be just as effective, especially if you intersperse it with personal reflections and stories. Some of the more popular funeral poems include:
• The Road Not Taken (Robert Frost)
• To Those Whom I Love and Those Who Love Me (Mary Alice Ramish)
• Not In Vain (Emily Dickinson)
• Footprints (Unknown)
• God's Garden (Unknown)
• Miss Me But Let Me Go (Unknown)
• Should you go First (A.K.Rowswell)
• In Memoriam (Alfred Lord Tennyson)
Whether religious in nature or based on personal reading tastes, there are literally hundreds of different funeral verses. Most funeral homes have their own lists of popular favorites, and you can choose from a portfolio to find what you might want printed inside the funeral program or recited during the opening or closing remarks. The religious official you choose might also have a list of standard verses to share; talk with him or her prior to the memorial service to ensure that you are content with those chosen for your loved one's funeral.
The most important thing to remember is that any poem or verse—whether it deals directly with death or not—can be appropriate at your loved one's funeral. Anything with personal associations or positive memories can make for a great memorial service that brings everyone a little bit closer to the dearly departed.
Please share your thoughts on this article
Related articles