What is the Difference between a Mortuary and a Funeral Home?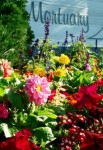 When it comes to the funeral industry, there are more providers involved than most people realize. From hospitals and mortuaries to funeral homes and crematoriums, the disposition of a body requires careful processing and handling.
Most people are aware of the role a funeral home plays in traditional funeral planning proceedings. This facility, usually visible in the community, is your point of contact with the death care industry. Funeral homes employ funeral directors, who serve as the guide for your family's decision-making process and provide you with the services and products you need. You can buy caskets, choose burial or cremation, pay for the funeral, and hold a service all on site.

What many people don't always know is that mortuaries do much of the same thing. However, instead of putting so much emphasis on appearances, a mortuary provides a more direct tie to the burial (or cremation) process, and tends to be more scientific and to-the-point in its approach.
Mortuary Services
Few funeral homes have cremation facilities on site; however, most mortuaries do. If you want to limit the amount of transportation required of the deceased's remains, or if you want to be on site when the cremation occurs, a mortuary might be a better fit.
Burial preparation at a mortuary is similar to those at funeral homes, but with less emotional support. You can still have a body embalmed, prepared, and placed in a casket, but don't expect there to be as much emphasis on grief counseling and viewing time
Mortuaries are open for visitations, but typically only for close friends and family members. If you intend to hold a formal viewing, it's better to opt for the formality of a funeral home.
One of the biggest differences between a funeral home and a mortuary is in the state legal requirements. Several states require that a funeral director be involved directly in the handling of a body, which means that even if you hire a mortuary, a funeral home may have to be included.
Mortuaries are often the first people called when death occurs—especially if there is an element of crime involved. Bodies may be stored here while the crime is investigated, and an autopsy or other procedure can be done on site.
One of the biggest reasons people turn to mortuaries in place of a funeral home is to save on funeral costs and to make the entire process easier. Because mortuaries place less emphasis on the trappings of burial and more on simply taking care of the body, you can avoid many of the more costly steps typically associated with planning a funeral.
Please share your thoughts on this article
Related articles