What Will the Funeral of the Future Look Like?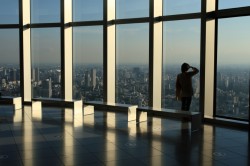 Although the funeral industry is typically slower to change than many other fields, there have been great advances lately regarding burial options, memorial services, and funeral technology. More and more people are turning to online platforms to share their grief and make their advance funeral plans, and the traditions of the past—heavy on the more ornate process of burial in a cemetery—are being set aside for more streamlined funeral options.
While none of us can predict the future, there are a few trends that may take over the funeral industry and start pushing us a specific direction. Here are some of the things we expect to become more popular over the upcoming decades.
Emphasis on Eco-Friendly Burials: While you can opt for cremation or a direct burial to save the environment quite a bit of excess damage right now, we expect to see more of an emphasis on green funerals in the future. Whether this means unique body disposal methods (like fungal suits or resomation) or a more widely-accepted use of eco-friendly woods and materials for caskets, the focus on "green" is likely to spread.
Creative Use of Burial Space: While the United States still has plenty of room for cemeteries to grow and expand, other countries are suffering from a lack of burial space. To help cope with the problem of burial real estate, there's been an increase in cremation, a more creative use of burial land (vertical burials, double burials, and mausoleums), and even a new design for a skyscraper cemetery that could become a viable option for those in large cities.
Online Memorials: Right now, the only way to "visit" a deceased loved one is to go to the gravesite or have an urn that you keep in our home. As technology becomes a more universal form of connecting loved ones, we expect online memorials to become more popular. Webcasted funerals, Facebook and Twitter accounts on moratorium, and interactive spaces to share your memories of the deceased should become more sophisticated and accessible from anywhere in the world.
Funeral Pre-Plans: Advance plans for funerals are only becoming more prevalent—and with good reason. Many families are finding that the stress and anxiety of planning a funeral after death occurs is an unnecessary burden to bear. Because funeral plans come in so many different shapes and sizes these days, we expect more people to opt for the financial arrangements that suit them best—and for this type of early arrangement to continue happening until it becomes mainstream.
Of course, there may be plenty of new innovations we haven't thought about yet, but that's part of what makes the funeral industry so interesting. There is room for improvement in science, technology, and practice—which means improvements are likely to continue happening at a rapid pace we look forward to.
Please share your thoughts on this article
Related articles