Anniversary Memorial Services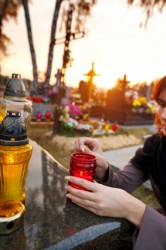 The average American puts quite a bit of time and expense into funeral planning, usually to the tune of about one week and $10,000. And for the most part, this is considered well-spent. After all, we constantly hear about how this is the last chance to say farewell and a reason to gather the entire family together at one time—even if it is with a somber note to the event.
Of course, that doesn't mean the commemoration of a loved one's life has to stop the day after the funeral takes place. A growing trend in the death care community is to follow up on a funeral one, two, three, or even ten years later with an anniversary memorial service.
What is an Anniversary Memorial Service?
A memorial service differs from a funeral in that it is a sort of celebration that occurs away from the cemetery or funeral home. Often held in a private home or restaurant, there are usually food and beverages offered, some kind of music or video commemoration, and a generally low-key atmosphere. Entire families gather to talk about the deceased and to share their grief and memories.

Because there is no time limit on grief, it's becoming increasingly more popular to hold memorial services long after death has already occurred. And by planning one on an important date or the date of death, you can combine an anniversary and memorial service in one.
How to Plan an Anniversary Memorial
There is no limit to what you can or cannot do when planning an anniversary memorial party. Most people find that because grief lessens over time, it's possible to have more fun and share positive memories after considerable time has passed. You can also focus less on sorrow and more on a celebration of life—and encourage all the people who loved the deceased to attend.
Like a regular memorial service, you'll need to consider things like location, catering, guest lists, speeches, and memory picture boards.
Location: Choose a place that the deceased loved. A residence or restaurant is a great choice, but don't limit yourself to just those options. A favorite bar or golf course, a beachside resort, or even a bowling alley can set the perfect tone.
Catering: It's a good idea to plan an event that creates an atmosphere of joy and fun. That means food and, in many cases, adult beverages to go with it. You can make all the deceased's favorite dishes or have the event catered to free you up to enjoy the event.
Guest Lists: Because funerals often have to be planned at the last minute, it can be difficult for long-distance family members and friends to make the trip. Now is your chance to include all those people who couldn't attend before. Give people enough time to plan ahead and try to find affordable accommodations to make travel easier.
Speeches and Memory Books: This is a great time to lighten the mood. While tears and sad memories will always linger, do your best to focus on the positives. Encourage guests to dig through their pictures and diaries to come up with great memories to share.
You can also plan small commemorations throughout the year. A bouquet of flowers on the gravesite on a birthday, holiday decorations in the right seasons, a big dinner with friends on an anniversary—all of these small celebrations matter. Plan big or plan small…as long as you take the time to remember the deceased, he or she will always live on in your memory.
Please share your thoughts on this article
Related articles