Should I Attend a Funeral?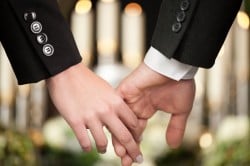 For many people, there's no question of whether or not to attend a funeral. If the deceased was a close friend or relative—or if there was a strong emotional connection—your grief will compel you to attend if only so you can get the closure you seek. For some people, however (particularly when the deceased was an acquaintance or connection rather than a true friend), there may be a question of whether or not you want to attend. In addition to needing to take time off work, you may feel uncomfortable or unwelcome without a direct family invitation.
There are a number of different factors that should go in to the decision-making process. Depending on the nature of your relationship with the deceased and the family, here are a few questions you may want to consider.
What Are Your Motivations in Attending?
There is no right or wrong reason to attend a funeral, but it's a good idea to know yours before you attend. Some of the more common motivations include:
Curiosity
Grief
Support for the family
Support for the community
Professional obligation
Friendship
Guilt
In support of a spouse or loved one
While friendship or community support tend to be perfectly acceptable reasons for attending a funeral, curiosity or guilt may not. If your reasons stem from anything but grief or friendship, consider whether it might be better to send funeral flowers instead.

How Private is the Family?
Some families would rather keep a funeral small and private and reserved for those who truly loved the deceased. Others will see a large turnout as a sign of how beloved the deceased was and/or how much of an impact he or she had on the community. Based on what you know of the family, determine whether or not your presence would add to the overall atmosphere. If you'll be more in the way that you will be a contribution, consider staying home.
How Difficult Is It for You to Get Away?
Attending a funeral isn't easy for everyone. The majority of them take place during the middle of the workday, and there may be an element of travel involved. If you have trouble getting time off work or cannot afford travel plans, the extra effort required to attend the funeral may be too much. These are situations in which it might be acceptable for you to send a sympathy gift instead.
Can You Bring a Friend?
Oftentimes, one of the biggest reasons we don't attend a funeral is a fear of appearing out of place or as if we don't belong. Since it's rare for the family to have enough time to extend a personal invitation to everyone, it's up to you to decide whether or not you want to attend. If your anxieties will be lessened by having a friend or spouse there with you, then you may want to have them come for support. Funerals are hard on everyone, and having a good network you can rely on is key.
Please share your thoughts on this article
Related articles