Sympathy Gifts for the Loss of a Pet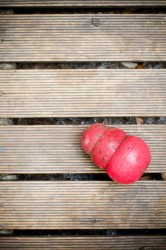 For many people, the death of a pet is just as emotionally devastating as the loss of a human friend or relative. Pets often serve as companions for decades at a time, and to lose them suddenly can cause deep feelings of regret and grief.
Because society doesn't view funeral planning for pets the same way it does the death of a person, it's often more difficult for people to cope with their loss. Support networks may not be as readily available, and it's rare to get time off from work or access to other bereavement resources. People may become withdrawn or feel isolated because of the lack of sympathy from the outside.
Why Send Funeral Gifts for Animals?
Sympathy gifts for dogs, cats, and other animals are a great way to show a loved one that you recognize their loss—even if you don't quite understand it. By treating the death of a pet as you would the death of a human friend, you are validating their feelings of grief and providing a lasting memento keepsake. (Like sending funeral flowers or a bereavement gift basket, you can also show your support from a long distance.)
Pet sympathy gifts don't have to be expensive, either. Even if you send something as simple as a bereavement card with a hand-written message, your show of support will go a long way in helping your friend come to terms with their loss.

What to Send as a Pet Sympathy Gift?
Overall, anything that you might send someone as a sympathy gift for a human is also appropriate for the loss of a four-legged friend. Traditional offerings like bouquets of flowers and food baskets are appropriate, or you can opt for something more pet-specific.
Options include:
Specialty pet picture frames
Garden stones or statuettes that provide a fitting sentiment
Pet jewelry or other wearable keepsakes
An urn or container for the ashes (when applicable)
A donation to an animal shelter made in the pet's name
Pet memorial marker for the burial site
Gift baskets with food, luxury items, and other personal tokens
Woven blanket with a picture of the pet
Windchimes or other outdoor artwork
Avoid giving anything that hints the bereaved toward replacing the pet in their affection (such as a new puppy or a gift certificate to a pet store). While many people can and do move on from their loss with a new companion, this is a step that must be taken in their own time and on their own terms. The idea that their friend could be easily replaced is one that may make their bereavement worse.
Please share your thoughts on this article
Related articles