Benefits of an Outdoor Funeral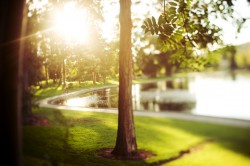 Most funeral plans revolve around a fairly traditional ceremony. Whether at the funeral home or at a local place of worship, family and friends gather to say prayers, sing hymns, share stories about the deceased, and pay their parting respects. While the details surrounding this ceremony vary (in addition to location, you can make decisions regarding funeral music, funeral attire, food and beverage options, audio-visual components, and the officiant), most of us have a fairly good idea of how the process works.
So too do we envision the graveside service. When the deceased chooses to be buried, it's common to hold a second service at the cemetery, to say prayers and watch as the deceased is lowered into the ground.
However, for many families, it's ideal to combine these two services to make the most out of a funeral budget. There is no reason why a funeral has to be held inside. If you live in an area where the weather is cooperative and the deceased had a love of fresh air and sunshine, it may be best to move everything into the great outdoors.
Outdoor Funerals
There are several ways to plan an outdoor funeral. You can:
Hold the full traditional religious service in an outside space, such as a park, church courtyard, or private backyard
Combine the graveside service and the funeral service into one event held at the cemetery
Perform an ash-scattering ceremony in place of a traditional funeral
Invite close friends and relatives to an outdoor barbecue or other low-key gathering without the body
Have a formal wake in a favorite outdoor space
Like weddings, funerals can take on a variety of shapes and sizes, and there is no wrong way to mourn. As long as it is respectful and it meets all local permit and event regulations, you can hold a memorial service just about anywhere.

Why Go Outside for a Funeral?
There is something about nature that provides solace during a difficult time—especially if it meant something to the deceased. When the sun is shining and the birds are chirping, it's easy to see the circle of life taking shape.
Outdoor funeral services also have the benefit of:
Natural decorations. You can often skip the funeral flowers and other decorations in favor of nature's bounty. This is especially true if you're holding a funeral when the flowers are in full bloom.
Releasing ceremonies. Whether doves, balloons, or fireworks, there are many aerial displays that you can do outside. Holding the ceremony outdoors means you can more easily incorporate these touches.
Lower costs. Although it's not always the case, most outdoor spaces are less expensive to rent than indoor ones. Cut back on funeral costs by holding a ceremony at a public park or private land.
Seasonal celebration. There's no reason why the funeral service has to be held in the days following death. Holding a ceremony outside is a great excuse to delay the ceremony a few months—allowing you more time to plan, grieve, and gather those people who will want to be in attendance.
Traditional, green, or personalized, funerals today are what you make of them. Getting outside is a great way to take advantage of nature without sacrificing the respect, love, and honor you feel for the deceased.
Please share your thoughts on this article
Related articles