Buying a Casket at a Major Retailer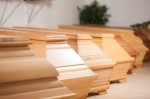 Seemingly, one of the easiest ways to save money on funeral costs is to purchase your casket at a third-party provider. Caskets tend to be the most expensive item on a funeral price list, and shopping around might save up to thousands of dollars. Although not all funeral homes make this option clear, the Funeral Rule requires that funeral homes accept a casket purchased from an outside retailer, if that is what you wish.
While it might seem like a popular option to buy your casket from a lower cost provider, there are quite a few obstacles and taboos that prevent it from becoming mainstream. Among the reasons are that advertised prices you'll find on caskets come from the same mega-corporations that sell you your groceries, clothes, and household products (think Costco and Wal-Mart). And for some people, that makes the step from groceries to funeral planning just too close.
Pros of Shopping Around for a Casket
Most companies know that buying a casket is a deeply upsetting process, so you can't walk into these retailers and ask for the casket section. In most cases, you'll do your shopping online at the company's website (catalogs and orders by phone might also be available). This allows you some privacy while you make your decision. However, seeing a big ticket item in person is very beneficial.
You'll also find that these companies know about the time constraints on planning a funeral. They offer fast shipping (overnight and three-day options), often free of charge. And they'll deliver right to the funeral home, saving you the trouble of finding a way to transport the casket from your home. However, be aware that if something goes wrong, it falls to you to deal with the supplier, not the funeral home. For this reason alone, it may be wise to let the funeral home handle the casket purchase, shipping, delivery and any customer service issues.
At third-party websites, you'll find more choice, since the half a dozen or so caskets funeral homes display aren't the entire lineup they offer. When you shop online, you can look in all price points and material types. And if you know what you're shopping for, you can even find the exact same caskets that are sold at the funeral home—without the markup. Just remember that funeral homes do a lot to earn that markup by handling the details so you can grieve.

Why Traditional Shopping Might Work for You
While saving money is always nice, many people find that shopping for a casket online robs them of part of their grieving process. There is something to be said about touching the caskets, about seeing them up close and making a decision as a family for a loved one's final resting place.
There's also quite a bit of convenience when you buy from a funeral home. Not only do you not have to worry about whether or not the casket will arrive on time (or as you imagined it), but funeral directors are there to take over as much of the work as possible—and relying on them to arrange all the casket details can be well worth the extra money.
Benefits of Shopping Early
Regardless of how you get your casket, you can save the most money and trouble by shopping early. While no one can completely plan for death, taking advantage of funeral pre-plans that allow you to select your casket and burial package ahead of time can be a great way to spend less and get the benefit of working directly with the funeral home to get the results you want.
The best way to get a real value is to find a good funeral home and work with them directly before shopping around. You may just find that their prices are competitive and their services make up for any extra cost.
Please share your thoughts on this article
Related articles

Because funerals tend to be formal and call for more careful attention to your attire than usual, it makes sense that you will put on some jewelry before you leave the house. A string of pearls, an understated watch, a favorite family brooch—al... more »

Any time you search online for funeral prices and burial costs, you are likely to find a familiar caveat: how much you will end up paying depends on where you live. This is not a very helpful statement if you are looking for specific funeral c... more »

There is perhaps no better way to cut back on funeral costs than to take a community approach to burial. Part of the reason funerals are so expensive is because most families go through the process alone. They meet with a funeral home, make decisions... more »