Cemeteries and Funeral Services in Minneapolis, MN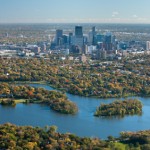 If you want to capture some of the unique history and scenery of the Minnesota region, Minneapolis funeral homes are a good place to start looking. Many of the funeral homes here have been in operation for over a hundred years, and have been serving local families all that time. The cemeteries are just as old, and a quick search of the most famous graves will lead you through the early settlement of the area.
Famous Minneapolis Cemeteries
Lakewood Cemetery is a large, private burial ground that can be found on the National Register of Historic Places. Modeled after the traditional rural cemeteries of France in the 1800s, this 1871-dated cemetery is one of the most beautiful examples of funeral architecture in the United States. The wooded backdrop, rolling verdant hills, and mausoleums, many of which boast stained glass windows and other ornate details, all add to the appeal here.
Famous burials in Lakewood Cemetery include government leaders, city founders, and such industry leaders and Frank Mars (creator of the Milky Way candy bar), John Pillsbury, and Curt Carlson (founder of Radisson Hotels).
Fort Snelling National Cemetery is a federal burial place open to U.S. military men and women. It continues to be open to new interments today, and also holds several famous burials and Congressional Medal of Honor recipients, making it worthy of a visit. Some of the more popular names include MLB player Johnny Blanchard, baseball announcer Bob Casey, boxer Glen Flanagan, and sportscaster Halsey Hall.

Additional cemeteries can be found all over the Minneapolis backdrop. Some of them date back hundreds of years while others are more recently established and cater to today's families. Crematoriums and alternative interment options also exist in abundance, so you never have to worry about finding local funeral resources that can cater to your unique needs.
Twin Cities Funeral Services and More
The Minneapolis-Saint Paul region is famous for its beautiful scenery. With over twenty lakes and a cityscape that makes the most out of the local setting, this is a great place to live no matter what your lifestyle. Rural, urban, and filled with plenty of historic charm—the Twin Cities area has it all.
When it comes time to plan a funeral or send funeral flowers to Minneapolis, we're here to help. Many of the local funeral resources here are among the best you'll find in the country, and there's always a focus on helping you to work through these difficult times. Pre-plan your funeral complete with a family cemetery plot or simply learn more about the long history here through the charming cemeteries.
Please share your thoughts on this article
Related articles
Incoming search terms: