Choosing a Casket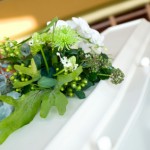 One of the first decisions you'll make if you opted for traditional burial as part of your funeral planning efforts is which casket you'd like. Some funeral homes offer burial packages, and you choose a casket from a select number of options in that package.
You can also choose a casket based on personal preference or even buy one through a third-party vendor (which funeral homes are then legally obligated to use). For more in depth planning guidance, download our guide, "7 Insider Tips You Need to Know Before Funeral Planning." One of our 7 tips covers the upsides of having the funeral home order your casket.
In most cases, the decision of which casket to use is based on how they look or the materials they're made out of. However, there is more to them than just aesthetics. If you're selecting a casket for a loved one or for your own pre-planned funeral, here are a few considerations.
Metal Caskets
Most metal caskets come in one of six types: bronze, copper, stainless steel, 16-gauge steel, 18-gauge steel, or 20-gauge steel. Metal caskets are typically the most hardy of the options, as they can be sealed and covered with protective coatings that don't break down over time. (Note: There is no way to stop the natural decay of the body and all other organic materials included in the burial. Although metal caskets will not break down over time, their contents will.)

Wood Caskets
From a visual standpoint, wood caskets tend to be the favorite and most traditional. More environmentally sound than metal caskets, these options typically come in hardwoods like mahogany, walnut, cherry, maple, or oak. For a lower costs, you can also choose ash, poplar, pine, or even wood veneer. In most cases, you can choose between a natural wood look or a darker stain to suit your preferences.
Cremation Caskets
One of the common misconceptions about cremation is that it tosses all the traditional conventions aside. On the contrary, most crematoriums require that the body be placed in a cremation casket for safety and sanitation requirements. Because the casket is burned with the body, it must be made of wood or cardboard, and you can choose the type that suits you best. Ranging from higher-end wood caskets to direct cremation containers of canvas, there are options in every price range.
It's no secret that caskets have been one of the most often marked-up items in a funeral home, so be sure and make your selection wisely. (This may no longer be the case as market pressures have had the effect of reducing mark-ups in many communities.) The best way to avoid overpaying for a casket is to decide which one is right for you before the funeral occurs—ideally during the pre-plan funeral stages or while drafting your will. That way, you are thinking with your brain and budget rather than your heart—and you can save your family quite a bit of trouble during the difficult time following your passing.
Please share your thoughts on this article
Related articles

When you visit a modern cemetery, you notice that most of the headstones take on a similar look and shape. Neat rows of granite plaques line the ground—some with engravings and some without, some featuring vases that lift up to provide a conven... more »

When most people talk about funeral planning, they assume that you (or your loved ones) live in a city where funeral services are readily available. All metropolitan centers and mid-sized cities have several funeral homes to choose from, usually in a... more »

Today's funeral caskets have the option to come equipped with specialty drawers that allow you to incorporate a uniquely personal touch. Located on the lid or side panels, these memorial drawers are similar to ones you might find in a jewelry chest... more »