Choosing a Cemetery Plot: A Checklist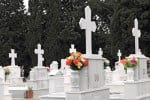 One of the most important decisions you'll make while funeral planning is which cemetery plot to choose. Although it is possible to move buried or cremated remains after they have been interred, it is a very expensive and lengthy process. The final resting place you select should reflect the ideal location for this and future generations.
That's why it's important to take some time to explore your options and make the right choice for your family. And here are a few things to consider throughout the process.

Price: Cemetery fees typically include the plot, the opening and closing of the grave, the outer burial container (a vault or liner), the headstone, and a burial permit. When tallying costs, be sure and include all these things.
Funeral Home Discounts: Some funeral homes offer discounts (and likewise, so do cemeteries) or provide free transportation if you use a facility they're associated with. If saving money is important to you, you may want to look into these kinds of options.
Religious Affiliations: Some of the most intimate cemeteries are the ones that are nestled next to a church or other religious facility, and are open only to members of said church. Others are larger religious cemeteries that welcome entire communities both past and present. If religion is important to you, you may want to look here first.
Military Affiliations: There are strict rules about who can be buried in federal cemeteries, but it can be a tremendous honor if the option is available to you. If you or a loved one has served in the military, you may want to contact the Veteran's Department for more information.
Location: Like any kind of real estate purchase, the location of the grave will be affected by time and change. Will the cemetery expand in the future, making your perimeter site part of the interior someday? How much upkeep will be needed to keep the cemetery looking neat? Will the view change if developments outside the cemetery occur?
Space: How much space is there for the rest of the family—and for how many generations to come? In many cases, people want to purchase a family plot. However, this might require you to purchase a large plot of land in order to keep the space reserved for future use. You might also need to ensure you get a plot with room for a spouse or children.
Rules and Regulations: Every cemetery has its own regulations. They may require a burial vault or liner. They may restrict visiting hours. They may not allow fake flowers or other decorations. You may be required to maintain the grave yourself. Be sure you understand all the rules before you choose a cemetery plot, since you will be responsible for any associated costs or fees once you sign the agreement.
If you already have a cemetery plot and you want to choose a new one, there are options available to you. Depending on your agreement with the cemetery, you may be able to sell the plot to a third party or sell it back to the organization. You may also be able to transfer to a new location within the same cemetery.
Cemetery plots are usually a permanent option for you and your loved ones. Although you can make changes at a later date, this might not be in your (or your family's) best interest, so take your time and choose carefully.
Please share your thoughts on this article
Related articles
Incoming search terms: